The Acer Nitro XV3 XV273K is a great monitor for gaming and general use. It has a high refresh rate and low input lag, making it great for gaming. It also has good color accuracy and a great design.
Acer Nitro XV3 XV273K Monitor Review
Despite its excellent color results and moderate price, Acer's Nitro XV3 is just short of gaming-monitor glory.
Pros
Displays with 4K resolution at 144Hz are cheaper than other displays.
Good color results.
Brightness readings of high quality.
The design allows for unusual keyboard placements.
Cons
Significant backlight bleed.
Tinny onboard speaker
Two DisplayPort cables are required for the 4K 144Hz mode.
Incapable to maintain HDR/G-Sync at a refresh rate of 144Hz.
Spec:
Panel Type & Backlight: IPS / W-LED, edge array
Screen Size / Aspect Ratio: 27 inches / 16:9, HDR10, DisplayHDR 400
Max Resolution & Refresh rate: 3840×2160 @144Hz, FreeSync HDR: 40-60Hz, GSync Compatible, Density : 163 ppi
Native Color Depth & Gamut: 10-bit (8-bit+FRC) / DCI-P3
Response Time (GTG): 4ms
Brightness: HDR – 400nits, SDR – 350nits
Contrast: 1,000:1
Speakers: 2x 4w
Video Inputs: 2x DisplayPort 1.4, 2x HDMI 2.0
Audio: 3.5mm headphone output
USB: 3.0: 1x Up, 4x Down
Weight 14.5 pounds / 6.6kg
Warranty: 3 years
1. Accessories and Unpacking
Despite the Acer Nitro XV3 XV273K being more expensive than the Predator X27 or Predator XB273Kit still comes with the same high-quality light hood as the Predator X273K and a factory calibration along with a data sheet.
Additional accessories include two DisplayPort cables, one USB 3.0 cable and an external power brick. The base and upright are already bolted together when you order your monitor. You can lift the monitor out and connect it to your computer.
We earn a commission if you click this link and make a purchase at no additional cost to you.
2. Product 360
The styling is elegant and straightforward, as with all Acer gaming monitors. Only a few angular pieces set it apart from other vanilla-looking business displays. The upright is finished in solid aluminum, and a little bit of red is added where it meets its base. Today's standards call for a bezel that is quite wide and extends forward from the panel's top layer. Anti-glare works well and is free of artifacts.
The controls for the on-screen display (OSD) are located in the back right. They consist of a power toggle and three buttons, and a joystick. Although it's simple to navigate the menus, it's not difficult to use the select function of the joystick. It requires a full press to activate it.
The large, lightweight hood that comes with the Acer Nitro XV3 XV273K has been made of rigid material and is held in place by screws. It's not a snap-on. It is superior to other hoods that come with professional monitors. It can only be used with Acer's lug patterns, which cannot be used on different displays.
A LED desk light shines from the bottom and is included with the monitor. It emits a soft glow from the panel's backside. It can be controlled via the monitor's System menu.
The ergonomic functions include a height adjustment of just under four inches, 20 degrees swivel to either direction, 25 degrees back tilt, and 5 degrees forward. The movements are consistent with premium displays and do not have excess play or wobble. Once it is adjusted to your liking, it will stay put. Acer gaming monitors also included a sturdy metal adapter that can be used with a 100mm VESA mounting if you prefer.
Two USB ports are located on the left side. Two USB ports are located on the left side and two on the bottom. There are also two DisplayPort 1.4 inputs and two HDMI 2.0 inputs. Why do you need two DisplayPorts? Connecting both DisplayPorts to the appropriate graphics card will provide you with full 10-bit signal quality for 3840×2160 resolution at 120Hz. The refresh rate of a single cable is 120Hz. The Predator X27 monitor and Predator XB273K are competitors. They use a single DisplayPort connection, which reduces bandwidth to reach a complete resolution at 144Hz.
You can also find a 3.5mm headphones jack on the input panel. Two built-in speakers powered by 4-watt amplifiers are available if you prefer to leave your ears open. The sound quality is good with low distortion and decent volume. The bass is not very strong, but the detail is exemplary.
3. OSD Features
It is easy to use and looks similar to other Acer monitors. Acer Nitro XV3 XV273K is divided into six sections that start with the primary image controls. It is essential to mention the HDR option. The Nitro XV273K will go into HDR simulation mode if you don't switch it off for the SDR signal. While this might be useful for specific content, it can alter color and contrast in unacceptable ways.
HDR400 is also available. This setting increases the output to more than 500 nits. This is what we used in our testing. Super Sharpness is another option. It is possible to turn it on in some picture modes. This produces visible ringing, which reduces clarity.
Picture modes can be accessed by pressing the control key. There are eight presets available, including the HDR simulation. Any change you make automatically puts the XV273K into User mode, just like any other Acer monitor.
The Color menu contains everything you need for calibrating SDR signals. You can select from four-color temp presets and five gamma settings and, again and bias slider.
You'll also find a second screen with an additional picture mode selection and a color space option. This is where you will find the sRGB gamut. DCI-P3 will be used for all signals. You can't adjust gamma and color temp with the sRGB mode. Only brightness can be changed. You can adjust hue and saturation on six axes.
There are two levels of overdrive in the Gaming menu. This is along with aiming points and a FreeSync toggle. Fps counters can also be selected. It stands for Visual Response Boost and strobes your backlight. This works at 144Hz, but you must turn off FreeSync. It also reduces the brightness to 200 nits maximum.
You will need two DisplayPort cables to enable a refresh rate of 144Hz. Then, turn the option on in the System menu's second screen.
After setting up your XV273K, you can save it to one of the three memories. You can reset to factory defaults from the signal info screen
4. Configuration and calibration
Calibrating XV273K requires a compromise between grayscale and color accuracy. SDR signals should be calibrated using the sRGB mode. Unfortunately, it doesn't have an average grayscale tracking and cannot be calibrated. Although you can achieve a perfect white point using the User mode, it will not work with HDR and SDR signals. It all comes down to personal preference. All adjustments in HDR mode are blocked, but that's okay because the accuracy is fantastic. It's one of the most HDR-friendly monitors we have ever measured, as you can see on page 4.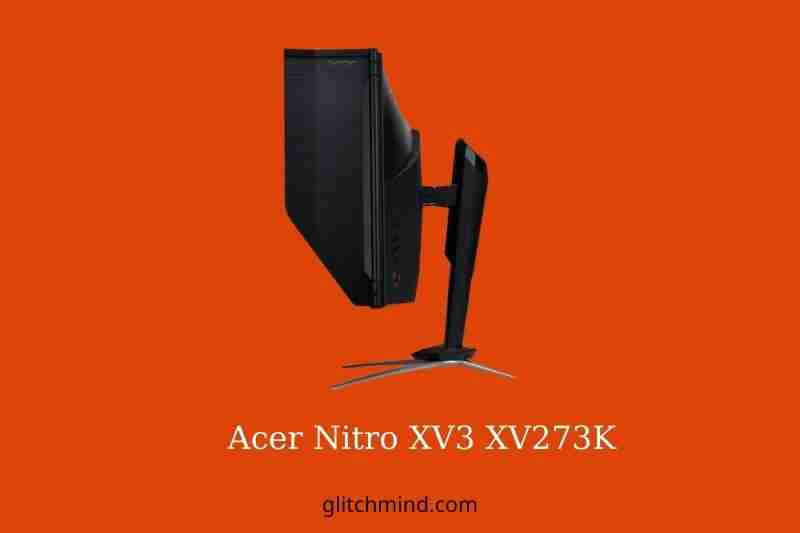 5. Design and features
The new Acer Nitro XV3 seems almost identical to its Predator XB3 brother. The stand and chassis are similar, with minor cosmetic differences such as the Predator branding on the lower bezel or the silver stand feet on the Nitro model.
The Nitro comes with the same clip-on hood as the Predator. This is to reduce glare. It feels solidly constructed, even though the black plastic dominates proceedings. The stand is sturdy and easily adjustable.
The panel specifications are similar for both screens. It's an IPS panel measuring 3,840 by 2,160 pixels with a maximum refresh rate of 144Hz, 1,000% static contrast, and 90% coverage of DCI-P3 colors. Both screens are HDR400 certified, which means they can be HDR capable. However, this certification is only in strict terms.
The HDR400 standard represents the lowest level of HDR compatibility. Its peak brightness of 400nits is far less than the 600 and 1000 nits achieved by accurate HDR monitors. Unfortunately, you do not have USB Type-C connectivity.
You may wonder why the Predator model is more expensive than the Nitro XV3. The obvious answer is adaptive sync technology. The Nitro XV3 uses AMD's FreeSync. Whereas the Predator has Nvidia G-Sync, the Predator uses Nitro XV3.
While more advanced and requires greater quality control, G-Sync is more progressive on paper. Due to the need to attach a hardware module to the display, it is also more expensive.
FreeSync has made great strides since its inception. Nvidia control panel has updated its driver drivers to do FreeSync work with their graphics cards. You don't need AMD graphics hardware to enjoy FreeSync.
The only downside to the FreeSync versus G-Sync contest is that the Nitro XV3 can only run at 120Hz in FreeSync mode, while the Predator can keep the full 144Hz in G-Sync compatible. This seems like a reasonable compromise for cost savings.
6. Performance
The Acer Nitro XV3 will be difficult to distinguish from its more expensive sibling. Even for the more expensive Acer Predator X27, this is true if you are using SDR instead of HDR mode. It has a better display of HDR content because it has more excellent peak brightness and local dimming capabilities. It is brighter than the competition and can produce a much higher contrast level.
HDR content is growing in popularity, both for video and games, but it's still not ubiquitous. Thanks to its color-accurate IPS panel, the Nitro XV3 provides SDR content with outstanding image quality.
We squeezed the native 4K resolution into a small 27-inch panel. This results in razor-sharp images and incredible detail. This is not the giant cinematic screen you can get for the same price at 27 inches.
The XV3's viewing angles can also be praised. Additionally, the color balance is an excellent combination of natural and vibrant colors. The default calibration of the XV3 could be a bit better with some compression in black and white scales.
This is not noticeable in everyday use, and anyone who wants to guarantee color accuracy can dial it in with calibration. This may be indicative of the XV3's lower price. However, it shows how much attention has been paid to details.
The XV3's core capabilities allow for some fantastic results in-game. You can fire up a game with vibrant, colorful visuals, such as Witcher 3, and it will look stunning running at 4K or high refresh on an IPS panel.
The high refresh is subjectively difficult to choose 120Hz from 144Hz. It's, therefore, a minor inconvenience to reduce adaptive sync when the XV3 is enabled.
However, this is only a caveat. You will need potent graphics hardware to drive the monitor at native resolution and a high refresh rate. Some games cannot take advantage of triple-digit refresh rates even with the fastest graphics cards when they run in full detail.
The hood of the Nitro XV3 is, for the record, marginally more valuable than its Predator sibling. It can be attached quickly and easily, but it isn't very effective at reducing glare. This makes the XV3 appear fussy and frumpy.
Conclusion
If you're a gamer with a large budget and need all the bells and whistles at once, we recommend more robust alternatives such as Acer's Predator X27, Acer's ROG Swift PG27UQ and HP's Omen X Emperium65. They all have a 4K resolution, 144Hz refresh rate, HDR, and GSync They can be used simultaneously without any compromise. These devices will cost anywhere from $1,649 to $5,000.
Read also: