The Acer Predator XB273K is a top-of-the-line gaming monitor that offers an immersive gaming experience. It features a 4K UHD resolution, 144Hz refresh rate, and G-Sync technology. This monitor also has an impressive design with thin bezels and a sturdy stand.
Acer Predator XB273K Monitor Review
Acer Predator XB273K monitor is great for gaming. It is highly responsive and has very low input lag, making it great for competitive gamers. Dedicated G-SYNC module is supported for almost tear-free gaming. However, the input lag at 60Hz is much higher, which might disappoint console owners. It responds quickly, and motion looks sharp without blurring behind fast-moving content. The 4k resolution allows you to see more detail in your gaming area.
Pros
Great color reproduction.
Low input lag
Excellent value for the features that you get.
Gaming-friendly design.
Cons
Ports: Very few.
Black levels could be even better
Moderate light bleed.
We earn a commission if you click this link and make a purchase at no additional cost to you.
Spec:
Panel Size: 27-inch
Native Resolution: 3840×2160
Panel Type: IPS
Maximum Refresh: 144Hz
Response: 4ms
Contrast: 1,000:1
Display Inputs: 1 x HDMI 2.0, 1 x DisplayPort
Connectivity: 5x USB 3.0
VESA Mount 100mm
Warranty: 2 years
1. Image Quality
The Acer Predator XB273K was built on an AHVA panel (IPS) by AU Optronics.
It has a peak luminance rating of 350-nits (400 nits for HDR content), a color depth support of 10-bits via dithering (8 bit + 2-bit FRC), and 90% DCI P3 color gamut, 178-degree viewing angles and a speed of 4ms.
The Acer XB273K monitor significantly improves standard picture quality thanks to its quantum dot technology enhanced colors and decent peak brightness at 400-nits. It also has professional-grade factory calibration (Delta E 1).
The 4K UHD resolution provides clear image quality and plenty of screen space thanks to the 163 PPI-rich pixel density.
It's not easy to drive at higher frame rates, and it can be pretty challenging. However, you won't need to use anti-aliasing to remove the staircase effect that low resolution causes.
The Acer predator unit was free from excessive IPS glow, backlight bleeding, and other defects like dead/stuck pixels.
The screen's backlight is non-flickering, and the integrated low-blue filter prevents eye strain from prolonged usage.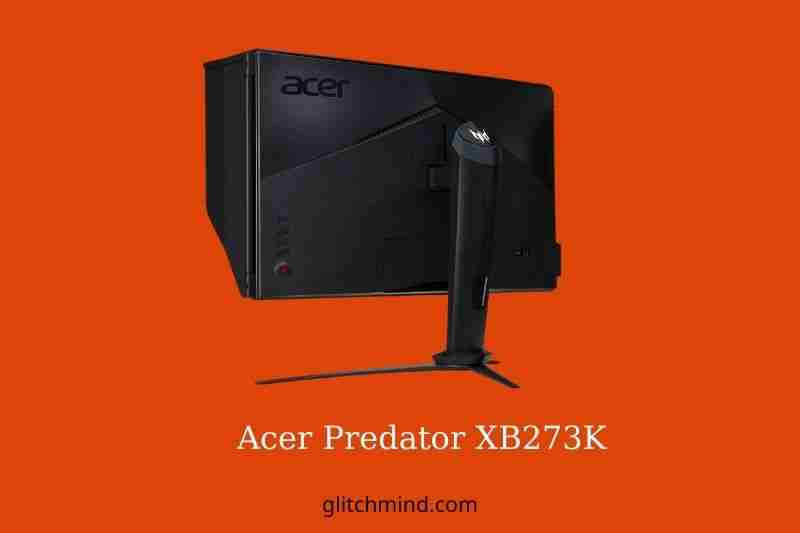 2. Performance
The Acer Predator XB273K input lag gaming performance with only 5ms delay is exceptional and is almost inaudible when used in real life.
Furthermore, the 4ms response speed (GtG – gray to gray) effectively eliminates any trailing left behind by fast-moving objects. This allows for fluid and smooth gaming.
To get 144Hz, you will need to increase the refresh rate of the monitor's 120Hz to 144Hz. This will reduce the output color from Full Range RGB 4/4:4 to YCbCr chroma subsampling to 4/2:2.
The compression can make text and some elements appear blurry on the desktop, but it is not apparent in video games unless there is a lot of text.
You can only use a 10-bit depth at 98Hz if you want to. We recommend 4K at 120Hz as most games only support 8-bit colors.
The Adaptive-Sync models have two DisplayPort inputs. This allows for 144Hz at 4K without color compression. This has its limitations. You can't use VRR and HDR if you're using both ports.
The Acer Predator XB273K can use G-SYNC up to 144Hz and has a broader variable refresh rate range, 30-144Hz, instead of the 48-120Hz for the Adaptive-Sync models.
You can also use G-SYNC and HDR simultaneously, while the other models require you to choose between VRR or HDR.
3. Features
Other gaming features that G-SYNC offers include Aim Point – customizable crosshairs, and Dark Boost, which improves the visibility of objects in dark places in video games.
You can create three picture profiles that you can customize and a few pre-calibrated presets. If you require exact sRGB colors reproduction for work, you can limit the output to the sRGB color space.
The OSD menu can be accessed via the joystick located at the back of your monitor. It is easy to use and intuitive. You can access four hotkeys to perform certain OSD functions, including picture mode, brightness and volume. ).
A sensor that adjusts brightness and black levels according to the ambient lighting is also included. A feature called "SDR Variable Backlight" allows local dimming in only 3-4 zones for a slightly better contrast ratio.
Another exciting feature is Ambient Glow RGB lighting technology, which has twelve LEDs that can be customized (color, brightness and style). An additional LED is located at the back of this monitor.
5. Design and Connectivity
The Acer XB273K 4K 144Hz gaming screen is very sturdy and has thick matte black bezels.
You can adjust the monitor's height by turning it by +/- 20deg or tilting it by -5deg/25deg. Or, mount it via the 100x100mm pattern. The screen display cannot be rotated.
DisplayPort 1.4 and HDMI 2.0b are the connectivity options. There is also a headphones jack and two USB 3.0 ports on the side—one with fast charging and one upstream. Two additional USB 3.0 ports can be found at the back. Two 4W integrated speakers are available.
Although the HDMI port can only support 60Hz at 3840×2160 resolution, it supports HDR. This makes the monitor ideal for console gaming.
The monitor also has an anti-glare coating and a removable shading hood. There's also an active-cooling fan that is quiet.
6. Unpacking and Accessories
The XB273K comes fully assembled. You can lift it out and rock. Yes, the hood comes with the panel and bolts to the fittings.
A factory calibration report is also available. Although Acer does not market the product as a professional product, it is certified for use in color-critical applications.
The accessory bundle includes a DisplayPort, USB cables, and an external power supply block. To hide unsightly wiring and tidy up cables, a cover can be attached to the back of the input panel.
We earn a commission if you click this link and make a purchase at no additional cost to you.
7. Product 360
The Predator XB273K isn't as loud as other gaming monitors. It has a simple, conservatively designed design containing only a few logos. The Delta E color accuracy symbol is the badge you see on the front bezel. The calibration report and this badge are the only indicators that the monitor is highly color-accurate. It's all about gaming.
The panel's front edge is lit by an LED light feature that you can control via the OSD. The board has several options to change the color and activate different flashing or breathing effects. You can also have the light show your G-Sync status, which is extremely handy.
A 4K resolution image with sharp detail shines through an anti-glare layer, which prevents artifacts. The display is crisp and clear, with tiny details and fonts visible on the desktop and during gameplay. When Variable Backlight is activated, contrast is as strong as any VA screen that we have reviewed.
The rigid light hood can be added to increase the dynamic range. It comprises three pieces that bolt to the bezel and includes hardware and fittings. It is also helpful in keeping your opponents away from your game screen during LAN parties or competitions.
This stand is well built and has a wide, deep stance. You will need just over 1′ (30 cm) of desktop height to accommodate it. The movements are solid, but there is some play when the panel meets the upright. You can swivel 20 degrees and get a -5 to 20% tilt. The height adjustment range is less than 4 inches (10 cm). The factory stand and the plastic shroud can be removed to access the 100mm VESA mounting in the back. An adapter made of heavy metal is available with aftermarket brackets or arms.
The input panel has a sparse layout and contains one of DisplayPort 1.4 and HDMI 2.0 outputs. The latter will be required for G-Sync. However, both plugs are capable of operating at 144Hz. USB 3.0 is available in one upstream and four downstream ports. The two on the side are the most important, while the remaining are located at the back.
8. OSD Features
A joystick controller summons the OSD at the rear of the display. The OSD can be accessed via three additional keys, which directly access input selection and image mode.
Although the OSD is pervasive and requires minor adjustments to create a stunning image, many of the options are unfamiliar to people who are not familiar with HDR or wide-gamut displays. The Picture menu contains most of the necessary items. The number of brightness can be called "Peak white (nits)," as it is very close to the white level. Blue Light warms the color temperature to reduce eye fatigue when working long hours. Dark Boost improves shadow detail, allowing one to see foes better in dimly lit areas.
Backlight Response has three options for the variable-backlight. This is a highly productive dynamic contrast feature. It can be used for SDR content at any time, and it will remain on even during HDR operation. Auto-Brightness and Auto Black Level use a top-mounted sensor that adjusts the image to suit your room's lighting. It is up to you to decide what this feature means for you. Your environment will determine its effectiveness. A sunny window can cause the image to change as the sun moves through the day or clouds pass by.
One of the control keys can be used to access picture modes. There are eight modes available, of which three you can change. The XB273K automatically switches to User mode when you modify any setting.
You can calibrate the monitor using the Color menu's RGB sliders or a group of gamma presets. This monitor will not require calibration. It is fantastic right out of the box. It defaults to producing DCI-P3 colors. But if you prefer sRGB for SDR content, turn on "SDR Colours sRGB".
Gaming has a two-level Overdrive Control, which adjusts the refresh rate between 120Hz and 144Hz. There is also a variety of aiming points. You can find the OSD menu section. The Save Settings To option is located at the bottom left. This allows you to save all settings to one of three gaming modes.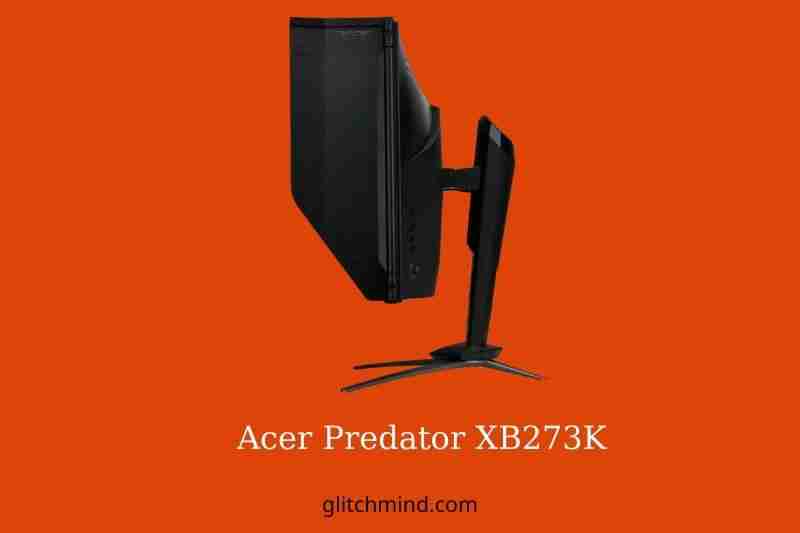 9. Configuration and calibration
After our initial color tests, we were able to see that the XB273K did not need adjustment. There was no need to adjust the XB273K's error levels below one dE. We still saw the entire DCI color gamut even when the HDR signal was present, even though we had reduced the white peak level to 200 nits brightness. There are no adjustments for HDR10 alerts. They are not required, however.
10. Gaming and Hands-on
The XB273K seamlessly switches between HDR and SDR content. First, turn HDR on in Windows through the Display Settings section. This renders all graphics using the DCI-P3 gamut. If you intend to edit photos in the RGB color space, you need to turn HDR off. Also, ensure that SDR Color is enabled in the OSD.
HDR is best for gaming. The Predator will switch to SDR when you load an SDR game like Tomb Raider. Both gamuts were tested while we played, and the DCI mode had a bit more intensity. Although it's not perfect, some users will appreciate this mode. To indicate the G-Sync status on the monitor, we used its LED effect, which is red when it's turned on and white when it's turned off.
The variable backlight turned on gave excellent contrast. The ratio was 200 nits and nearly equal to many VA panels at 2,000:1. This is great for video, productivity, and gaming. The Auto Black Level and Dark Boost features were not needed. Even in the darkest and murkiest of game environments, shadow detail was always evident and easily visible.
Read more:
Conclusion
The Acer XB273K gaming monitor is a great choice. However, there are much better options for your money.
We earn a commission if you click this link and make a purchase at no additional cost to you.