The Asus VZ239H review is a product of great quality and performance. The monitor starts out with a slim and sleek design that offers users a professional-looking workstation that offers IPS panel technology.
If you are looking for a monitor with excellent color reproduction, display quality, and viewing angles, take a look at the Asus VZ239H. The VZ239H is an excellent monitor for anyone looking for a high-quality monitor with the superb display quality.
Read the Glitchmind article below to know more.
Most Affordable
We earn a commission if you click this link and make a purchase at no additional cost to you.
Asus VZ239H Full HD 1080p IPS HDMI VGA Eye Care Monitor
Pros
Affordable price
Amazing Image Quality
Elegant design
Eyecare features
Amazing Value for Money
Cons
Stand with tilt-only
No VESA Mount
1. Asus VZ239H Frameless 23": Design
ASUS VZ239H-W is commented on as a screen of good quality, available in two colors white or black. The white monitor looks quite nice, even if you haven't considered the technical factors, just looking at it with the naked eye, you can still be impressed with its beauty. The VZ239H-W is widely considered to be beautiful and better than monitors that cost twice as much.
You'll notice the thin bezel surrounding the display first. It was a surprise that a budget monitor would have a modern design element. Because it contains the logo, the bottom bezel is slightly larger than the other.
This is Asus' ultra-slim display. The monitor measures only 7mm from the sides. Although the bottom is large, the rest of this display is slim. This, along with the frameless design, make this monitor a modern production.
This aluminum stand comes in a simple white finish to match the display's aesthetics. The frame is sturdy and can hold the monitor even with a bit of push. The screen can be tilted up to 5 degrees in front and 22 degrees back. You cannot rotate left, right or any direction. This is its disadvantage.
You won't be pleased if you like to change the angle of the display often. Fortunately, this panel is IPS, so frequent swivels might not be necessary.
2. Asus VZ239H-W: Audio and portability
The monitor is approximately 6 pounds in weight and measures 20.9×8.3x 15.2inches. If you like to move the monitor around, it is straightforward. We are disappointed by the lack of VESA compatibility. You can mount cheaper models on your wall, but you can't hang this model on your wall. Although it is not a dealbreaker for most, it can make some feel sad.
VZ239HW also includes a few integrated speakers. These 1.5W speakers are not the most powerful, but they're still good enough. For a better sound experience, we recommend you get more powerful speakers.
3. ASUS VZ239HW: Specs
The VZ239HW LED-backlit 23-inch LCD-backlit monitor has a resolution of 1920×1080 pixels. This monitor has a native aspect ratio (16:9), ideal for media consumption and gaming. This monitor is more expensive than other budget models and features an IPS panel.
An IPS panel brings many benefits to the table. The best feature is the viewing angle. The ASUS VZ239HW has a viewing angle that is 178 degrees, thanks to its IPS panel. The display can be viewed from any angle, and the same colors will appear everywhere.
An anti-glare coating is also available on the monitor. It can be challenging to see a reflective display. It can be very tiring to see your reflections and those behind you. This one has an anti-reflective coating so that you won't see those shiny reflections in good lighting.
The ASUS VZ239HW has a maximum brightness of 250nits. Although this may not seem like a lot compared to high-end displays at this price, it is still quite impressive. Although you don't necessarily need maximum brightness, it can be beneficial at times.
TUV Rheinland-certified ASUS Flicker-Free technology is included in the VZ239HW to reduce eye strain and headaches due to flickering.
ASUS's eye care technology includes a TUV Rheinland-certified ASUS blue light filter that reduces the effects of blue light. You can choose from four settings, which are accessible via a hotkey.
Reflections can cause eye strain. The Asus VZ239HW has an anti-glare coating.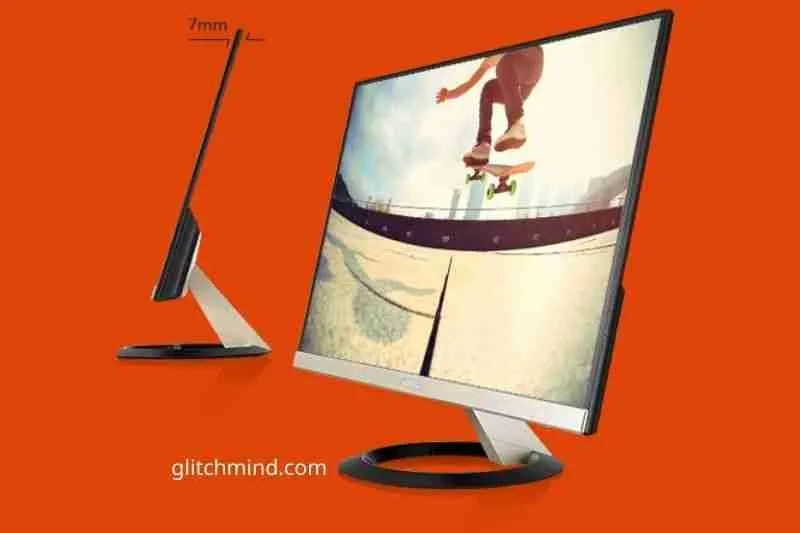 4. VZ239H: Image quality
The colors look amazing with a contrast ratio (1000:1) and an Asus Smart Contrast Ratio (ASCR) of 80M. The display supports 16.7 million colors, according to Asus. We don't dispute that claim. The screen's high contrast ratio will allow you to enjoy the content at its best. You'll be able to see more colors. This is what the ASUS VZ239HW-W does.
The standard IPS panel brightness level is 250 nits. It also has a 1000:1 contrast ratio. It has a better color accuracy than other displays, even if it is a budget IPS.
The display's 5-ms response speed and 60Hz refresh rate reduce ghosting and blur. The show supports 8-bit color depth via dithering (6 bit + FRC).
95 PPI is a high pixel density, well above the average. This allows for clear text and full-color images. This high pixel density helps to avoid blurry text or squinting.
5. ASUS VZ239HW: Performance
The 178deg viewing angle allows color to be displayed across the monitor without adjustments. The color, brightness, contrast, and color are usually the same regardless of tilt.
The ASUS Eye Care performed well in real-life situations. The monitor can display 75% NTSC colors and 97% sRGB. This monitor is an excellent choice for anyone who works with videos and photos.
It is pretty good that the gamma settings remain at 2.2, which is very stable. This display can produce excellent results if you correctly set the brightness and contrast ratio. To personalize your collection, you can adjust the saturation.
Backlight bleeding is one of the biggest problems with modern monitors. Backlight bleeding was not an issue with the ASUS VZ239H-W model. Amazon's replacement program allows you to replace any defective devices.
To get the best out of the 1000:1 contrast and brightness, adjust the monitor to your preference. You have eight options to adjust the monitor:
sRGB mode
Scenery Mode
Darkroom Mode
Theater Mode
Night View Mode
Mode
Reading Mode
Gaming Mode
This contrast ratio provides excellent grayscale performance and superior blacks and whites.
ASUS Eye Care has a slow response speed, only 5ms, so Asus VZ239H is not suitable for gamers.
Regardless of the lack of VESA connectivity, Asus can still use it as a second monitor in a multi-monitor setup to increase efficiency.
6. ASUS VZ239HW: Connectivity
Connectivity is a problem with the ASUS VZ239HW gaming monitor.
The back of the device has an HDMI port that allows for quick connectivity to desktops or gaming consoles. The DVI port is located next to the HDMI port, essential if you have a graphics card with only DVI ports.
A headphone jack is also included, so you can connect your headphones to the display and get great audio.
It is disappointing that there are no more HDMI ports and a display port.
More…
Eight preset modes are available to help you get started if you're unfamiliar with the settings. These modes include sRGB Mode and Scenery Mode. These modes can be handy depending on what task you are trying to accomplish.
Flicker-free technology is an excellent addition to the feature list. Flickers can be very damaging to your eyes and can cause permanent damage. The monitor's flicker-free technology eliminates indications, making viewing safer for your eyes.
ASUS VZ239HW owns a blue light filter. Blue light, just like flickers, can cause eye damage. Depending on the task, this filter can reduce the amount of blue light from the display.
7. Asus VZ239H W: Reliability
It limited 3-year warranty on the ASUS Eye Care. This warranty includes Asus's dead-pixel policy covering 3 to 5 bright or dark dots. It is essential to review Asus's LCD Policy as it does not cover all damages.
Just like other Full HD IPS monitors, Asus also encountered problems related to Full HD IPS LCD screen bleeding or other luminous phenomena. Here are the factors that you should consider when buying this monitor.
Like other budget IPS monitors, the ASUS Eye Care has not had any bleeding issues.
Conclusion
One of the many benefits of the Asus VZ239H is its ultra-fast response time. With a 1ms gray-to-gray time, high-speed input is always available. Besides, the monitor also uses an LCD panel which provides superb clarity, sharpness, and color reproduction.
This is a 27″ monitor with a 1920×1080 resolution which produces clear details even on big screen TVs. Asus VZ239H provides clearer images on both big-screen TVs and computer screens.
Read also: