Augmented reality glasses can make you feel super human.

Some of the features on these are insanely cool and if you have never checked out a pair, do yourself a favor and make it happen.

We're jumping right in to our top picks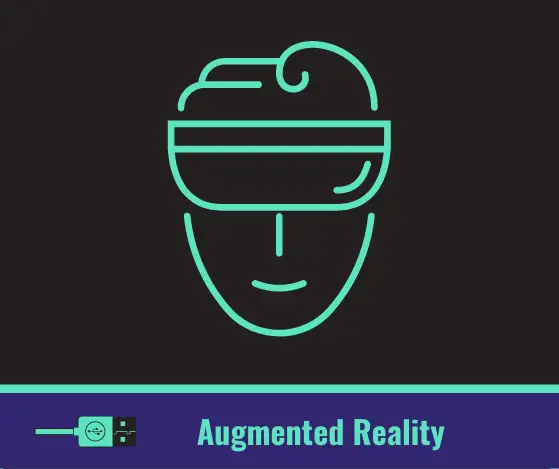 Vufine VUF-110 Augmented Reality Glasses
Super clear High Def Virtual Display
HDMI Compatible with ability to connect to any device with 720p output
Sleek magnetic docking station
90 minute batter runtime – 5v Micro USB
Bose
Blocks up to 99% of UVA/UVB rays
Open-ear audio so that you can remain aware of your surroundings and still enjoy your music
Built-in microphone so you can make calls while wearing
Bose Connect app allows for ease of personalized settings and access to future updates
Bluetooth connectivity for easy pairing
Oculus Go
Okay so the following 2 Oculus products are technically not augmented reality glasses, but we had to include them.
Important to note: on June 23rd, Oculus announced that they are sunsetting the Oculus Go system.
Crystal clear optics
State-of-the-art 3D graphics
Connect with your friends and watch live sports or TV shows
Easy to use without the need for PC or phone (no wires, no hassles)
Built-In Audio for easy listening
Oculus Quest
Step into the games you're playing and become part of them with the incredible VR capabilities that the Oculus Quest offers
All-in-one VR gaming system with no wires
Super intuitive touch controllers that arm you with precision for your slashing, throwing and grabbing for all gaming situations
Oculus Guardian boundary system helps ensure you stay safe while wearing. No tripping over or bumping into furniture while inside an alternate reality
All Augmented Reality Glasses We Recommend
Bonus: 6 Awesome Augmented Reality Apps
We have seen the augmented reality glasses, now here are 6 augmented reality examples available to you in 2020.
Skyguide App
The Skyguide app is every astronomer's dream. Made by Fifth Star Labs and available on iOS, this awesome AR app lets users overlay constellations on the sky using their phone.
Microsoft HoloLens 2
I did a write up on the HoloLens 2 here and this on-stage demonstration showcases just how powerful this tool is.
L'Oréal Paris Virtual Makeup
As a guy I don't wear makeup, but if I did, I'd be using L'Oréal's virtual make up. Instead of having to applying product and then having to clean it off, you can now get a good representation using the makeup genius gadget.
Google Maps
Have you ever tried using map navigation on your phone while walking? It can be confusing. Google's augmented reality feature overlays more clear direction in their mapping app. This helps pedestrians easily discern routes and directions with less headache.
Amazon Shopping
If you are unsure of how that new TV or piece of furniture you're ready to buy will look in your home, Amazon has a fix for that. Amazon seems to have a fix for everything. Their AR functionality makes it easy to see how your potential purchases will appear inside your home.
Candide Label Gardening App
This one is super cool for gardeners and plant enthusiasts. Instead of wondering what type of plant or tree you are looking at, this app overlays an informational label onto the plant you point your phone toward.
So there are 6 augmented reality examples you can get your hands on today. Augmented reality is still new and you are probably not utilizing it yet. You will be soon. This tech will only get better and more prevalent as time goes on.
Other Cool Articles:
Microsoft HoloLens 2
Stunning Timelapse Video