Looking for the best noise cancelling headphones under $200? While, there are quite a few very expensive pairs on the market, noise cancelling headphones don't have to break the bank! Check out our list of high quality options under $200.
In this guide, we answer the questions:
Top picks under $200 at a glance
What are noise cancelling headphones?
How do noise cancelling headphones work?
What to look for in a pair of noise cancelling headphones?
Our top 5 top picks under $200
At A Glance
Our Top Pick
The Skullcandy Venue Wireless ANC Over-Ear headphones are the top recommendation on our list. The primary reasons we love them are the fair price and the solid noise cancelling ability.
On top of that, they're comfortable and have a respectable battery life. These sleek and stylish noise cancelling headphones are made from high quality material. Lastly, and perhaps most notably, their music playing ability is absolutely stellar.
What are noise cancelling headphones?
Noise cancelling headphones lessen unwanted ambient sounds using "active noise control."
They drown out nearly all bothersome noises and have risen greatly in popularity due to their ability to give users a more peaceful and quiet reality.
How do noise cancelling headphones work?
Noise cancelling headphones are driven by technology known as active noise-cancellation or ANC.
In simple terms, there are microphones inside the headphones that work to pick up low-frequency noises and "cancel" them out before they make contact with the ear.
This is done by "phase inversion" which is a process where a sound wave is emitted from the headphones that has the same amplitude as the exterior sound coming in to the headphones.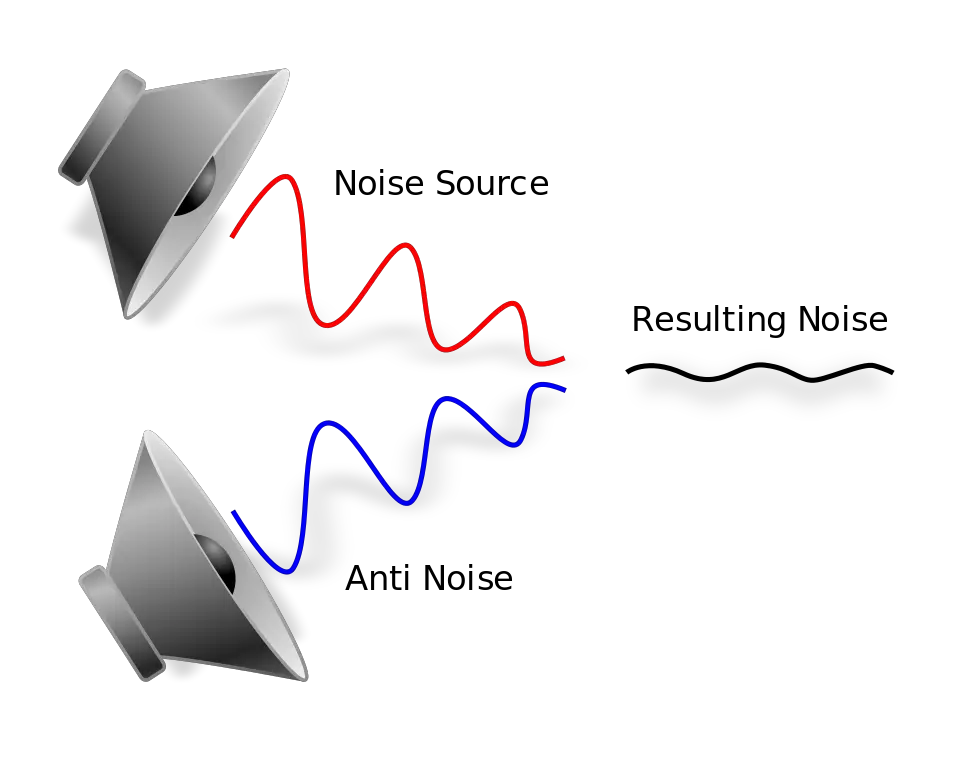 The sound wave emitted from the headphones has an "inverted phase" to the original sound. In other words, the headphones generate a sound that is inverted by 180 degrees to the incoming, unwanted noise.
This results in the incoming sound wave and the headphone emitted sound wave combining with one another to form a new wave and effectively cancelling each other out.
What To Look For In Noise Cancelling Headphones
There are a number of features that noise cancelling headphones have, and you should consider how you intend to use your headphones when evaluating your options.
If you are a frequent traveler looking for a more peaceful voyage, the quality of the noise-cancelation is what you should focus in on.
However, if noise cancellation is something you enjoy, but won't necessarily use as often, perhaps choose the pair with higher call quality, or music capability.
With that said, these are the primary features you want to evaluate when buying a pair of ANC headphones.
Noise cancellation quality
Battery life
Battery charge time
Comfort and fit
Warranty
Adjustability
Phone call quality
Fashion
5 Best Noise Cancelling Headphones Under $200 Reviewed
Let me preface this by saying you can easily spend more than $200 on a pair of noise cancelling headphones. Nevertheless, after pouring through numerous product specs, I can confidently say that there are multiple quality products available under $200.
The below 5 pairs of noise cancelling headphones are all under $200 and excellent choices.
A quick note for transparency. All of these products are all available on Amazon. If you buy a pair after clicking through one of the product highlights below, a small commission goes to me. I take product reviews very seriously.
My goal is to help eliminate some of the research needed yet still and want you to feel confident in your choice.
Let's get into the best noise cancelling headphones under $200.
Skullcandy Venue Wireless (Top Pick)
The Skullcandy venue wireless are comfortable, boast excellent noise cancellation, and offer strong sound quality for the avid music lovers. These headphones are are made from high quality material and perform strongly in the areas that matter when rating ANC headphones. Simply put, these are a great choice for music, noise cancellation, comfort, calling, and fashion.
Another awesome feature is the built-in Tile tracker that gives peace of mind knowing you'll never have to worry about losing these headphones. For more information on how this works, click here.
These Skullcandy's also come with a 2 year manufacturer warranty.
Top Pick
Battery life: 24 hours
Charge time: 2.5 hours
Item Weight: 1.48 lbs
Sound Pressure Level: (1mW @ 1KHz pink noise): 97.3dB @1kHz
Connection Type: Bluetooth® or Wired
Impedence: 32 ohms
Driver Diameter: 40mm
Frequency Response: 20Hz – 20KHz
Total Harmonic Distortion: <0.1% (1mW/500Hz)
Headphone Type: Over-Ear
Strengths
Awesome music playing capability
Comfortable
Built-in voice assistant
Weaknesses
Tight fit for those with a larger ears
Sony WHCH700N (Also great)
Sony is known for their overall quality with their ANC headphones. The WHCH700N's are a step up from the WHCH710N's and a bit more costly, but offer higher quality noise cancellation and what most consider a better degree of comfort. The microphone allows for phone calls to be taken, but as is the case with other Bluetooth headphones, the quality can be a faulty. That said, one of the more convenient features is the ability to edit and modify sound as well as turn off noise cancellation directly from the Sony mobile app.
Runner Up
Battery life: 35 hours
Charge time: 10 minutes
Item Weight: 0.53 lbs
Voice Assistant: Alexa
Strengths
Sleek and stylish
Lightweight
Strong sound quality for music
Comfortable
Weaknesses
Noise cancellation is good, but not as strong as some of the competitors
A bit bulky and can start to weigh after wearing for long periods of time
BesDio
The BesDio BE-EH008 are a solid pair of noise cancelling headphones that will cost you less than a dinner date. They are easily portable with folding technology that allows you to carry them. A respectable 30 hour playtime with Hi-Fi sound and deep bass. They are Bluetooth 5.0 and offer a quick 5 minute recharge for 2 hours of playtime. The BesDio's are the cheapest headphone set on our list, but don't let the price fool you. They are a quality pair of noise cancelling headphones that are perfect if you're testing the ANC waters.
Affordability
Battery life: 30 hours
Charge time: 45 minutes
Item Weight: 1.9 lbs
Strengths
Full charge in a quick 45 minutes
Reasonable price at right around $50
Clear sound with ample bass
Weaknesses
Occasional static noise breaks through
Soundcore Life Q30
These are the second most affordable pair of headphones on the list and full of cool features. The Soundcore's flex their battery-life muscles at a whopping 40 hours of playtime with ANC engaged and a mega strong 60 hours of playtime without ANC. On top of that, a quick 5 minute charge will give you a sizable 4 hours of music listening. These headphones are fantastic for a long airplane ride where battery life is essential.
Battery Life
Battery life: 40 hours
Charge time:
Item weight: 9.3 ounces
Strengths
USB-C charging point
Foldable and easy for travel
Indoor and outdoor mode
Comfortable
Weaknesses
No dual audio source
No mic with AUX 3.5mm
Cowin E9
The Cowin E9 headphones are the most comfortable on our list. If over-the-ear headphones have been causing you discomfort, look no further, as these are the pair you need to buy. So how do these differ from their predecessor, the Cowin E8's? The audio and bass are delivered with more precision and clarity. On top of that, the active noise cancellation is vastly improved from the E8's.
Comfort
Battery life: 30 hours
Charge time: 4 hours
Item Weight: 0.64 lbs
Strengths
Extremely comfortable
Strong noise cancellation
Weaknesses
The charge time is relatively long
Headband material is a bit fragile
Recommended >> Do Noise Cancelling Headphones Play Music?