Dive into a world where visuals come alive with vibrancy and unparalleled clarity. LG's 27-inch OLED monitor isn't just another display; it's an experience waiting to unravel.
Crafted with meticulous attention to detail, it promises an immersive journey that blurs the lines between the virtual and real. With stunning blacks, dazzling colors, and a design that whispers sophistication, this OLED masterpiece is set to redefine how you view entertainment and gaming.
Step closer and let the future of display technology captivate you. Welcome to the LG 27 inch OLED spectacle!
LG 27 inch OLED Overview
Last year saw some stunners like the Alienware AW3423DW and Asus ROG Swift OLED PG42UQ. And now, enter the new kid on the block, LG UltraGear OLED 27GR95QE-B! This beast boasts a 240Hz, 1440p resolution squeezed into a neat 27-inch size. Yep, it's the first of its kind in OLED gaming monitors.
LG's pricing it at a grand, but you might even snag one for $800! With its insane specs, it's like a Black Friday deal in August. For its top-tier category, every buck you shell out seems totally worth it for the performance it delivers.
Until we see more of these 240Hz OLED wonders in the market, the LG UltraGear is absolutely ruling the roost.
Pros:
Crystal Clear: The clarity on this monitor is just next-level.
Butter-Smooth Gaming: Say goodbye to lags with its ultra-smooth visuals.
Dimming Done Right: Unlike other monitors, no overly aggressive dimming here.
Cons:
Onboard Control Blues: The controls on the monitor itself? Not so helpful.
Could Be Brighter: For an OLED, it's a bit on the dim side.
USB-C Missing: Kind of a bummer not to have this modern port.
Design and Features Deep Dive: LG UltraGear OLED Monitor
Aesthetic & Build:
Diving right into the look and feel of the monitor, it's a BIG win in the design department. Ticking off the essentials:
Accessible ports
Handy cable management
Sturdy build
Flexible stand allowing pivot, swivel, height adjustments
A unique touch is the subtle stripe lighting around the screen's base electronics. It's understated, not screaming "gamer", yet still feels fresh and distinct from the sea of other gaming monitors. Love a gadget that doesn't just blend in!
Features & User Experience:
While the design gets a thumbs up, there's a little hiccup in the features department. One gripe? The menu options. Many of them are trapped behind the remote control's gate.
A few basic options can be tinkered with through the somewhat awkward joystick on the monitor. And yes, LG's OnScreen Control software gives a bit more accessibility. But if you're a techie who loves playing around with detailed settings (think gamma, white balance, and so on), you'll need to keep that remote close by.
Also, just a heads up, while the monitor sports a sleek profile thanks to that thin OLED screen, it does come with a sizable AC adapter brick. So, be prepared to make a little room for that!
In a nutshell: Fantastic design, but the user experience could use a bit of a tweak.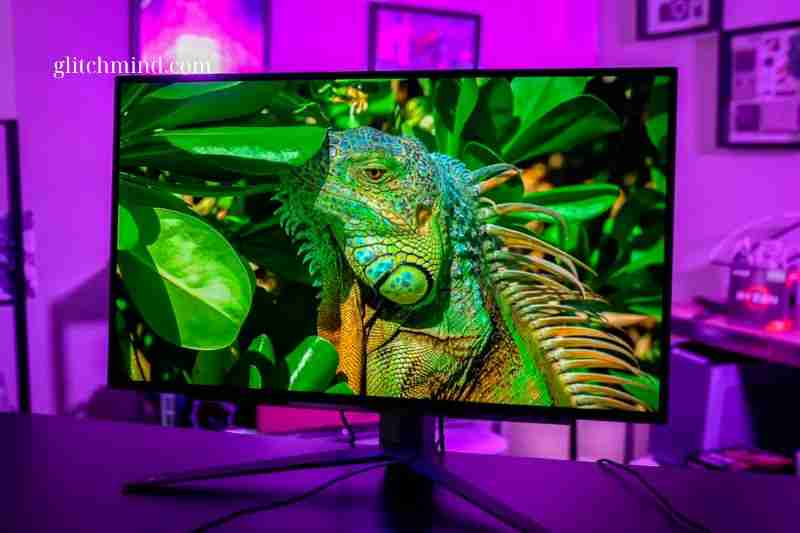 Specs
Display:
Size: A decent 27 inches
Resolution: Crisp 2,560 x 1,440 pixels
Refresh rate: Lightning-fast 240Hz
Brightness & HDR:
Peak brightness: 200 nits (That's the average in SDR)
Sizzling 1,000 nits at a 3% window peak and 837 nits with HDR on
HDR? Yep, supports HDR10
Color Vibes:
Depth: Deep 10-bit
Saturation: Hits a solid 98% DCI-P3 as rated (and a close 97% as tested). Also, a full 100% sRGB from testing.
Contrast ratio: A whopping 1,500,000:1 in HDR as rated, and 14,090:1 as tested
Response Time:
Pixel response (GtG): An almost instantaneous 0.03ms
Connectivity:
Ports galore: Comes with 2x HDMI 2.1, 1 x DisplayPort 1.4 (DSC), a USB-B 3.0 for upstream, 2 x USB-A 3.0 for downstream, the classic 3.5mm, and a SPDIF out
Gaming Specs:
VRR Support: Both AMD FreeSync Premium and G-Sync Compatible are on board
Extras:
Mount it up with a VESA mount (100×100)
Aesthetics: Hexagon lighting to set the mood
Sound: DTS Headphone:X for that immersive audio
Features: "Uniform brightness", factory color pre-calibrated right out of the box, and a flexible four-way-adjustable stand
Deep Dive: Picture Quality & Performance of the 27GR95QE
Picture Quality:
Built-in modes like Gamer 1 & 2, FPS, RTS, Vivid, and more.
Out-the-box, Gamer 1 mode was 💯. A few tweaks (Brightness at 100, Contrast at 70, and some other secret sauce), and the colors just POP.
Think inky blacks and a rich palette – playing Hogwarts Legacy or Atomic Heart is an absolute treat.
Professionals, like photo editors, have ample calibration options to get just the right shades.
Brightness Buzzkill:
The peak brightness for SDR is just 200 cd/m2. In super bright rooms, the monitor might feel a tad dim compared to LCDs.
Switching from an ultra-bright LCD? It'll take your peepers some time to adjust, but it's worth it. But hey, the HDR mode shines bright at 700 cd/m2.
HDR Heaven:
The HDR on this monitor is a game-changer, rivaling even the LG C9 OLED TV.
Forget the minor changes of other LCD HDRs. The 27GR95QE knows how to use HDR data like a pro.
Gaming Nirvana:
OLED response time = almost instantaneous. Ideal for those competitive gaming sessions.
No ghosting, no blurring, no drama – just super-sharp visuals.
Got AMD FreeSync or Nvidia GSync? Say bye to screen tearing. This monitor's got your back.
Sound Scene:
The 27GR95QE rocks DTS Headphone:X – turning stereo audio into virtual surround sound.
But let's keep it real, the audio feels stretched and kinda muddled.
Low volume from the headphone jack is a bummer. Pro tip: Stick to your PC's audio or get an external DAC.
Summing Up the LG 27-inch OLED Experience
Here we are, at the crossroads of technology, with LG's 27GR95QE OLED monitor. A fusion of vibrant visuals and performance, it's nothing short of a spectacle.
The 1440p resolution, while not 4K, is undeniably a happy medium that caters to a broad spectrum of gamers. From the old-school warriors with classic rigs to the next-gen gaming aficionados, it's got something for everyone.
However, excellence often comes at a price. At $899, it's not exactly pocket-friendly. But then again, top-notch tech seldom is. It's a tough call, especially with the potential of a 4K variant on the horizon.
Read also:
Best 49 inch Monitor in 2022: SAMSUNG, Asus, LG, Acer, Deco Gear…