If you're looking for a great gaming monitor, the ASUS VG279Q is a great option. It has a 27-inch display and a 144Hz refresh rate, making it perfect for fast-paced games. Plus, it has FreeSync technology to reduce screen tearing.
ASUS VG279Q Monitor Review
We earn a commission if you click this link and make a purchase at no additional cost to you.
Pros
Smooth gameplay with excellent 1ms response
GameFast input lag reduces input lag
Fully adjustable (Tilt/swivel/pivot, height adjustable)
Cons
More USB ports are needed
Low contrast ratio results in limited darkroom visibility
Specifications
Screen Size: 27 Inches
Resolution:1920 x 1080 FHD
Aspect Ratio 16:9
Panel Technology: In-Plane Switching
Refresh Rate: 144Hz
Response time: 3ms (1ms MPRT).
Contrast Ratio: 1000:1 (Static)
Brightness: 400 cd/m2
Speakers
Stand: Height -Yes
Stand: Tilt Yes
The stand: Swivel – Yes
Stand: Pivot – Yes
VESA Compatibility (100 x 100).
Connectivity: HDMI 1.4 x 1, DisplayPort 1.2 x 1, DVI-DL x 1, 3.5mm Jack
Dimensions (WxHxD): 24.4″x14.8″x8.3″
Weight: 12.35 lbs
1. Image Quality
ASUS VG279Q 27″' 1080p 144Hz gaming screen is based upon an IPS panel from AU Optronics. It has a 400-nit peak light and a 3ms (GtG response speed).
This is a small but noticeable improvement on the previous generation IPS displays. They have a peak brightness between 300-350 nits and a response time of 4-5ms for GtG (Gray-to Gray pixel transition).
Other specifications are also standard for panel-related specs, including a 1,000-to-1 static contrast ratio and an 8-bit (6–bit + 2-bit FRC) color depth covering the usual sRGB gamut.
We don't like the ASUS VG279Q's low pixel density due to its relatively low 1080p resolution on its 27″ screen.
This is because the display's picture is somewhat blurred. A 24" or 25″ monitor version will have sharper and more precise details.
This is not as apparent in video games, especially if there are anti-aliasing effects. However, if you plan to use the ASUS V279Q for work, you will need to deal with limited screen space and smudgy details.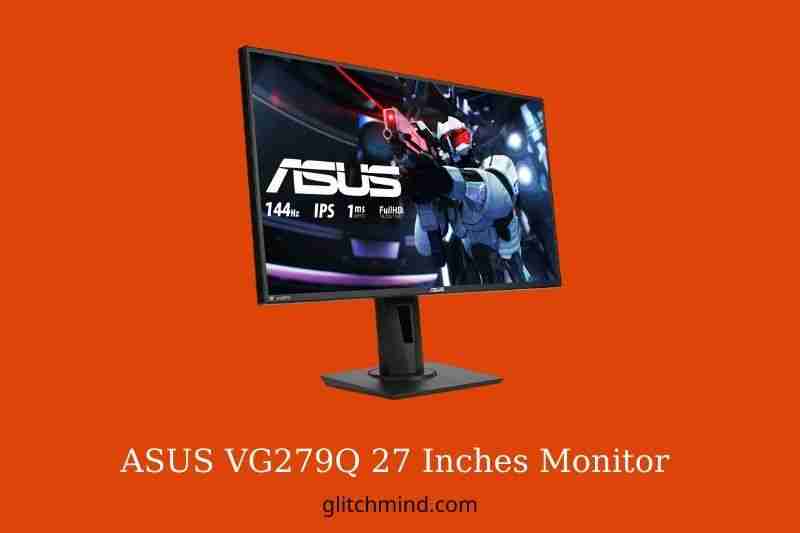 2. Performance
The 3ms (GtG) response speed allows for smooth, fast-paced gaming without motion blurring or ghosting.
You get a response speed performance comparable to TN models, vibrant colors, and wide viewing angles of 178° horizontally and vertically.
You can achieve CRT-like clarity using the ASUS Extreme Low Motion Blur technology (ELMB). To enable it, you'll need to adjust your refresh rate to 85Hz, 100Hz or 120Hz.
The ASUSVG279Q input latency performance is excellent at around 4ms, suitable for professional competitive gaming.
The monitor is free from visual artifacts, dead pixels and excessive backlight bleeding. Little IPS glow is expected from IPS panels and is entirely tolerable/manageable.
3. Features
The ASUS VG279Q 1080 144Hz IPS monitor is also equipped with AMD FreeSync/Adaptive-Sync support which allows the monitor to change its refresh rate dynamically, thus eliminating all screen tearing and stuttering with basically no input lag cost.
This technology requires an AMD FreeSync compatible graphics card. It works within 40-144Hz/FPS frame rate range (VRR) and is only for AMD FreeSync-compatible cards.
Adaptive-sync works well with NVIDIA GTX 10-series or RTX 20 series GPUs (and newer) on this monitor.
LFC (Low Framerate Complement) is also supported, ensuring smooth performance even at 40 frames per second.
Remember that Adaptive-Sync cannot be used simultaneously with 1ms MPRT.
Other features include GamePlus (crosshairs timers and an FPS counter), GameVisual(FPS, RTS and Racing), GameVisual (10FPS, RPG and MOBA), GameVisual (12FPS, RTS and Racing), GameVisual (16FPS, RPG and MOBA, sRGB), Cinema, Scenery presets) as well as Shadow Boost which improves visibility in dark areas.
The ASUS VG279Q 1080p displays have an integrated low blue light filter with a flicker-free backlight (unless 1ms MPRT is enabled). Gamma presets, color hue settings, and gamma presets are not available in the OSD menu (On-Screen Display).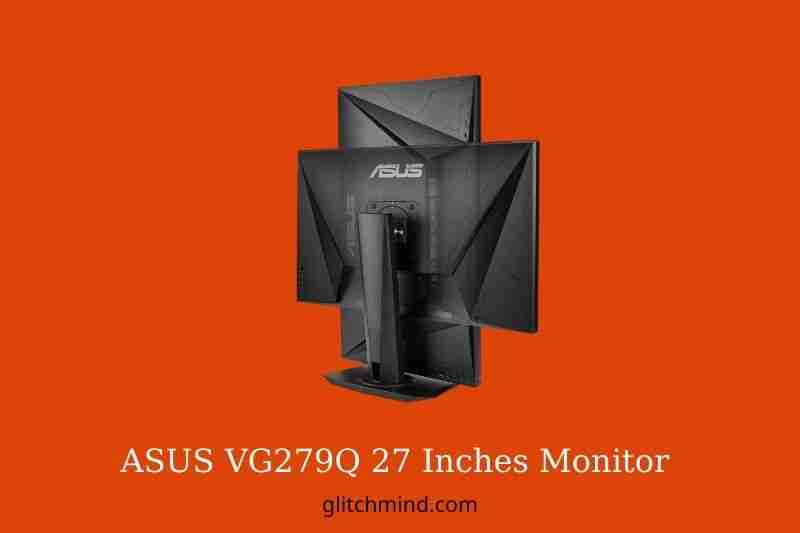 4. Design and Connectivity
The ASUS VG279Q monitor is fully ergonomic with a 130mm height adjustment, 90deg counterclockwise pivot, +/– 90deg swivel left and right, -5deg/33deg tilt, 100 x 100mm VESA mounting pattern, and 90deg clockwise pivot.
It also has an anti-glare matte screen coating 3H for minimal reflections and ultra-thin matte black bezels 10mm in diameter.
Dual-Link DVI–D (for 144Hz & ELMB), DisplayPort 1.2a for 144Hz & Adaptive-Sync, HDMI 1.4a (FreeSync with HDMI up to 120Hz), HDMI 1.4a and two 2W integrated speakers.
5. Qualitative Construction
If you look at a gaming monitor, you already know what you will get. You'll notice the usual angular styling and have your own opinion about whether it suits your home. You can find gaming monitors that are a bit more elegant, but that's up to your taste.
The stand has all the ergonomic adjustments you need, including a 130mm height, 90deg pivot and a +/– 90deg 90deg swivel. 100 x 100 VESA fittings are available if the stand is not working for you. I love 3rd-party monitor arms. My screens are mounted on brackets that allow me to have more desk space.
You'd expect the entire range of modern inputs to be available. DisplayPort 1.2a (for 144Hz, Adaptive-Sync, and HDMI 1.4a) (FreeSync over HDMI up to 120Hz), HDMI 1.4a, and if you need it, the older Dual-Link DVI–D (for 144Hz, ELMB).
Sound is provided by a built-in headphones jack and two primary 2W speakers if you need them.
6. Value
The Asus VG279Q review will show you one thing. It's that the IPS-panel LCD is an excellent option for both hobbyist and professional gamers. The Acer R240HY might be a better budget option for those who think the price is too high. The monitor can be used for media creation, office use, and gaming. It has a low contrast ratio, so it is best to avoid placing it in dark rooms.
We earn a commission if you click this link and make a purchase at no additional cost to you.
Conclusion
The Asus VG279Q gaming monitor is an excellent value for money, thanks to its precise IPS panel. We've seen a lot of wish lists for a 1080p 144Hz IPS monitor, and we are glad that Asus has provided us with a decent alternative. The model is just as reliable as its higher-end siblings and will be popular.
The only problem with the Asus VG279Q's IPS panel is its low contrast ratio. The screen appears grayish and slightly washed-out in some cases compared to TN or VA variants that we have tested. The monitor is still an excellent choice for anyone looking for a 1080p gaming option with exceptional viewing angles.
Read also: