In the world of video games, there are many different genres to choose from. One genre that has become increasingly popular in recent years is the idle game. Idle games are perfect for players who want to game without having to invest a lot of time or effort. These games can be played for a few minutes or hours at a time, and they're perfect for players who want to relax and unwind.
There are a variety of idle games to choose from, and finding the perfect one can be a challenge. However, there are a few that stand out from the rest. In this blog post, Glitchmind will look at the best idle games currently available.
Best Idle Games
1. RAID: Shadow Legends
Raid is a great place to start if you like games that play themselves. With its outstanding aesthetics, a massive array of characters, and diverse game types, it's undoubtedly the most well-known mobile game. You don't have to do anything other than periodically instructing your crew to attack a boss. That's exactly how we like it.
2. AFK Arena
Do you want to create a formidable party of fantasy heroes without lifting a finger? Then AFK Arena could be the place for you. This idle RPG emphasizes rapid growth and treasure since your characters battle even while you're not playing the game. It's a terrific technique that allows you to concentrate on the important stuff, like recruiting new party members and outfitting your explorers with incredible gear.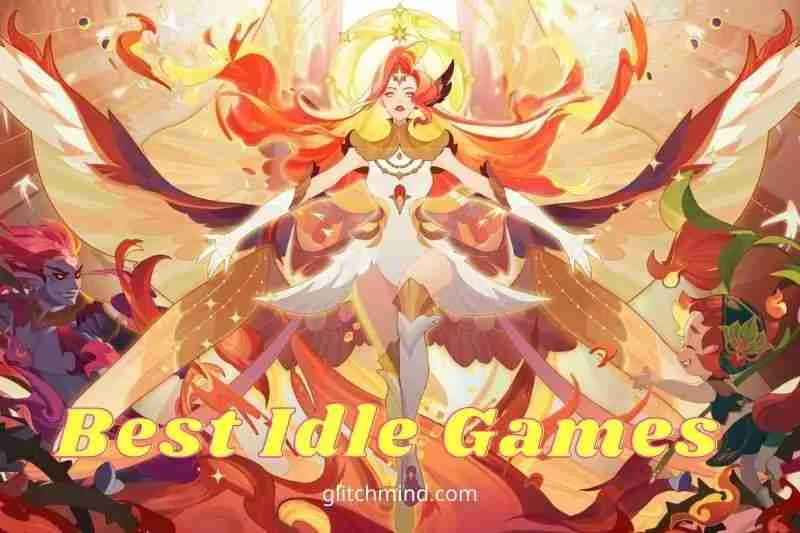 3. AdVenture Capitalist
AdVenture Capitalist may be the game for you if you like generating money without having to do anything. It bills itself as the "game you play while playing other, better games!" AdVenture Capitalist believes you should start small with a lemonade stand and work your way up to financial dominance. The most significant thing is that, like any good capitalist, you can employ people to do the job for you while you sit back and watch your profits grow.
4. Fallout Shelter
Many of you may recall Fallout Shelter's release with Fallout 4 in 2015. Though Bethesda added additional elements along the road, such as wasteland adventures and exploration, Fallout Shelter is mostly an idle game. You construct your vault, then sit back and function as supervisor, waiting for explorers to return and resources to create.
5. Realm Grinder
Starting with a tiny farm, you expand your holdings into a thriving kingdom by exploring the surrounding countryside and forging relationships. But that seems like a lot of effort. Fortunately, all you have to do now is tap. But what Realm Grinder can achieve with only tapping is astounding. The game offers a lot of complexity, allowing you to pick a faction, gain technologies, develop, and participate in diplomacy – pretty much everything you'd expect from an RTS town-builder, except it's an idle game.
6. Tap Titans 2
I know what you're thinking, and the answer is no, this game does not contain tap dancing – however, maybe someone should design one. Tap Titans 2 is not as relaxing as its other idle rivals, but it is essential for anybody wishing to slay demons and face formidable adversaries with no effort. Fight through over 70,000 levels, face up against over 60 different creatures, and prove yourself a hero.
7. Idle Oil Tycoon
Have you ever fantasized about becoming a freewheeling oil tycoon? Like Daniel Day-Lewis in There Will Be Blood, he sits in his home and tells them, "I drink your milkshake!" Idle Oil Tycoon won't get you there, but it could be entertaining in the meanwhile. You're on your way to riches if you find oil in your garden! Sit back and watch the money come in, regularly returning to enhance your wellness and sell when the time is perfect.
8. Almost A Hero
Almost a Hero, which prides itself on "attracting tryhards who don't quite fit in with the popular kids," isn't a game about destined champions but instead about transforming damaged individuals into the best they can be. It's a relaxing idle game that includes fighting, exploration, and magic. So, if you're "more failure than a fighter, more wally than a warrior, or more foolish than military," Bee Square Games puts it, this could be the game for you.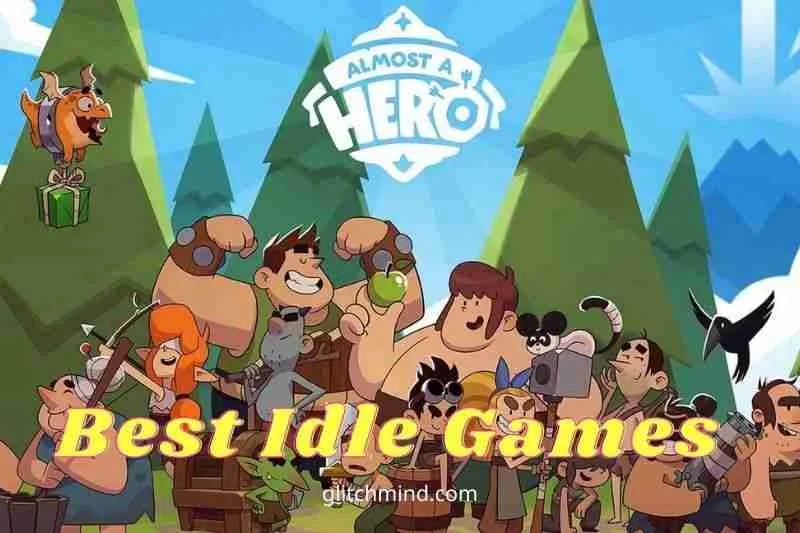 9. Clickpocalypse II
In this idle dungeon-crawling RPG, you form a band of adventurers to loot the depths of a monster-infested fortress, exterminating every creature they come across. Find stuff, level up, and upgrade skills while they do the hard labor so you can relax and enjoy the show.
10. Cookie Clickers
Cookie Clickers, rejoice! This is a traditional choice: a tapping game with a straightforward goal: collect the cookies. Initially, you can gather cookies by tapping the cookie in the center of the screen, but as you collect more cookies, you can use them to improve your cookie harvesting capacity. Soon, you'll be collecting billions at a time like some cookie god, nostalgically recalling the simpler days when one cookie sufficed.
11. Idle Miner Tycoon
Idle Miner Tycoon, like its tycoon cousins, is a game that allows you to glimpse the inner workings of the business. Work your way into the millions by improving your mine and ultimately employing professionals, allowing you to sit back and relax as the money comes in. Your mine even runs while you're not online, which we're pretty sure violates at least one labor regulation.
12. Egg Inc.
Perform you want to be a chicken farmer but are too lazy to do any farming? Then Egg Inc is just the game for you. In this clicker, you hatch hens, construct hen houses, and investigate the secrets of the egg to develop the most sophisticated chicken farm ever.
13. Medieval: Idle Tycoon
Build a flourishing Medieval town and excessively tax the population to make a nice amount of cash as King of the Castle. This tapping game allows you to perform many of the same things that tycoon games do – construct, collect, and study – but its delightful Medieval setting readily distinguishes it.
14. Dungeon Inc
Since Dungeon Keeper first surfaced, we've understood that running a dungeon is a significant deal. Congratulations on your recent promotion to Dungeon Inc's new Gold Production Manager! Your mission is to grow your dungeon by hiring monsters and earning more riches. Others, however, are greedy for what you generate, so you must also defend the dungeon from the appropriately titled Tax Knights, who are out to take your hard-earned money.
15. Assassin's Creed Rebellion
Form your Assassin squad and dispatch them on secret missions worldwide to confront the Templar menace. Many fan favorites from the franchise appear in Assassin's Creed Rebellion, including Ezio Auditore, Aguilar, and Shao Jun.
16. Idle Theme Park Tycoon
Have you ever wished to run a theme park? Idle Theme Park Tycoon allows you to accomplish such without strenuous effort. Like its tycoon siblings, this idle game is about amassing a fortune while simultaneously renovating and enhancing your park into a must-see destination.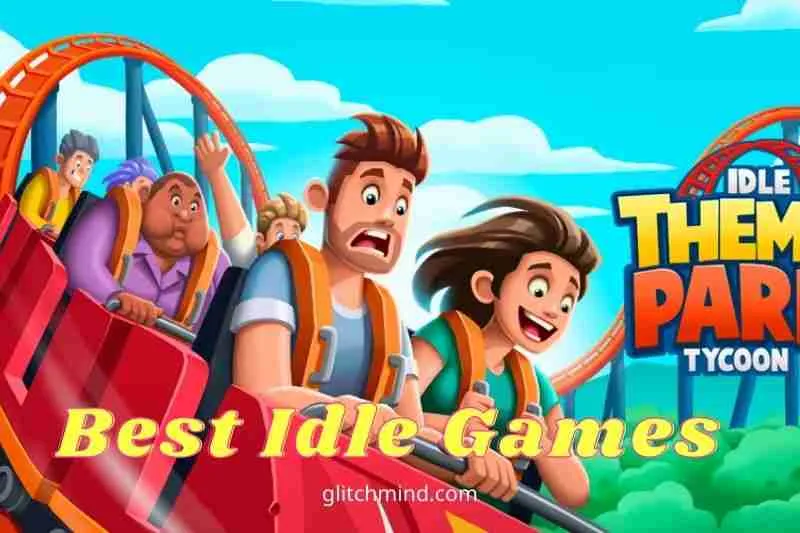 17. Game Of Thrones: Tale Of Crows
Have you ever wished to be Lord Commander of the Night's Watch? You may do so immediately. You send ranging teams north of the wall as the de facto leader of the crows, but the wonderful thing is that you receive updates throughout the day when these trips return ravens to you. They also continue to travel in real-time even when the game isn't running, allowing you to enjoy the luxuries of Castle Black as they freeze to death.
18. Idle Police Tycoon
Have you ever wanted to operate your police station and inflict punishment on wrongdoers? Idle Police Tycoon, as you would think, puts you in command of one such police station, managing its employees and making room to hold all the criminals you apprehend. It's an excellent little idle game that becomes more difficult as you advance.
19. Idle Apocalypse
We're unsure whether this is the finest idle apocalypse simulator of 2021 (or if it's the only one). Run a cult, produce creatures to perform your wicked will, and even summon some fabled gods to bring about the world's end. Idle Apocalypse demonstrates how fantastic clicker games can be with some amusing pixelated characters and plenty of substance.
20. Run Godzilla
This weird but endearing, free-to-play Godzilla game has you praying and racing a wide variety of recognizable Kaiju. While you're not using the app, individuals dressed in different adorable clothes bow down to the massive animals to help them get stronger.
That concludes our list! We hope you have a good time playing. If you like resource management and simulations, some of the games on our top mobile RPGs list could be for you!
21. Neko Atsume: Kitty Collector
Neko Atsume might be considered the apex of smartphone idle games. Unlike many idle games that base their mechanics on luring you to view advertising, Neko Atsume asks for very little in exchange for your time. You utilize fish cash to purchase food and set it out for the local "strays," which reward you with additional fish in exchange for full stomachs.
This never-ending cycle rewards you by gradually enabling you to extend your yard and purchase new toys. The delight of finding new kittens with fresh personalities awaits you every time you open the app.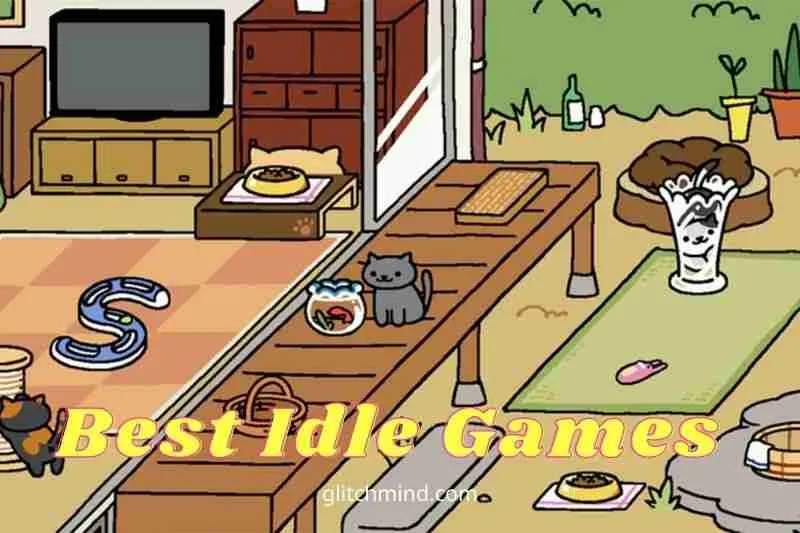 22. Cats & Soup
This idle game, in which a group of kittens collaborates to prepare soup in the woods, has a very Ghibli-esque feel. Cats & Soup allows you to enjoy the advantages of your cat's hard work, earning billions of pennies, whether you are there to sell their soup or having a break from your phone.
The more money you earn, the more recipes and ingredients you can unlock, so you'll have to recruit additional cats to work in your woodsy soup kitchen. You may even dress your cats to increase their culinary stats and feed them fish to increase their happiness.
23. Forager
Unlike other games, the "idle" portion of Forager comes from building up your base to create resources and items automatically. To keep acquiring raw materials and exploring across the globe, you must actively engage in that process.
As a result, the game advertises itself as an "idle game that you want to keep playing actively." Unlike other mobile idle games that reward you for leaving, Forager entices you back in with promises of growth and discovery.
24. Animal Restaurant
Neko Atsume's cuteness meets the joy of operating a restaurant management game. Increase the popularity of your restaurant by promoting new animals and making new friends along the way! Every new animal you meet has a unique narrative to tell and perks to offer your business.
When you exit the game, the restaurant will continue to operate normally, but there is a limit to the number of tips you may earn while inactive. If you want to provide the best eating experience an animal can afford, you must be actively involved in the operation of your restaurant.
25. Tap Tycoon
Game Hive Corporation has produced one of the greatest idle games for Android and iOS. The tapping game has simple and elegant gameplay. To conquer the world, you need your fingers.
This game allows you to generate money out of thin air. Your financial objective is to dominate the world. High-level investments will assist you in doing this. In this sci-fi adventure set in the 35th century, you may expect to see astonishing technology such as holographic windows and gravity forks.
Your empire should not be left defenseless. To govern the globe, you must first unite with your fellow people. Earn awards and badges by demonstrating that your company is the most powerful. The software is free from the Google Play Store and the App Store.
Key characteristics include:
The gameplay is simple yet hard.
You may make money in-game and start your own company.
There are several incentives at various levels.
26. Plantera
Plantera's relaxing environment will appeal to idle gamers. The garden you create may feature a variety of plants and shrubs that you must maintain. The game is beautiful, with bright fruits and butterflies to collect. A simple, basic game that allows you to enter into Plantera and construct your colorful universe will captivate you.
Key characteristics include:
Managing a farm has never been simpler than with the Plantera side-scroller! Crops and animals are both excellent sources of income.
Plant a wide range of trees, shrubs, and other plants. Harvest them for gold to get greater growth and levels.
Different types of animals may live in your garden. Allow them to wander freely. You may raise chickens, pigs, and other animals in the game. They also provide you with goods you may sell for additional money.
Even when you aren't online, your workers will gather resources and raise gold from your garden, assisting you in organizing and growing gold from your garden.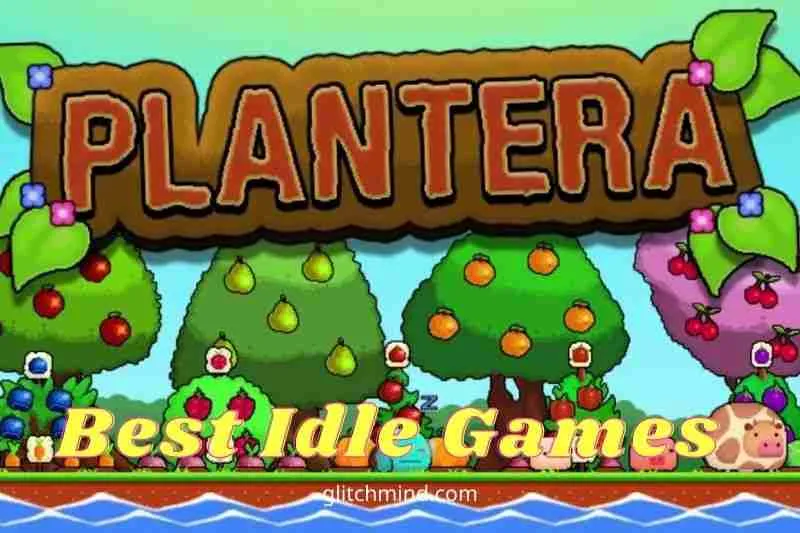 27. Bit City
With Bit City, your goal of owning your city may become a reality. A little village must grow into a metropolis. Make sure the town is full of buildings, automobiles, and aircraft. Make a magnificent city by unlocking new landmarks and structures.
Invest in the city's development to keep it expanding. Increasing the municipal budget will enable you to personalize your city's style as you gather more income. The coolest part is that it will allow you to extend into outer space!
The easy but addicting Big City game will make idle time more enjoyable. There is everything you need to level up without overworking your brain. Enjoy the game by achieving your objective!
Key characteristics include:
Build your city in any way you like.
The gameplay is simple yet addicting.
As you continue, you can unlock additional areas and things.
The best game for idlers looking to pass the time.
28. Cash, Inc. Money Clicker
Other Editor's Choice applications for Android users may be of interest. This kind of idle game is focused on becoming a prosperous businessman. Create and operate a time machine to gather money for your company. When you reach the pinnacle of your career, you join the elite business group.
By clicking on the money clicker, you may earn money. Clicker games are excellent for bringing a wide range of topics. The comforts of business tycoons are also available, allowing you to remain productive while enjoying the life of a tycoon.
Holding on to your success is a bad idea. Show off your money to other tycoons on social media. Please see how your peers react when you inform them about your achievements. This app can be a good option if you're bored and looking for something to do.
Key characteristics include:
Take your company to the next level, where tapping will be your most valuable asset!
You may take a break anytime and tap anywhere you wish. You can profit from your company without being there with this idle clicker!
You may use your tapping revenue to improve a variety of enterprises (and also from your managers).
If you generate money and accumulate profits, you can purchase everything you want.
29. Luna's Fishing Garden
Fishing minigames provide a unique and relaxing experience. Luna's Fishing Garden is a soothing 2D idle game that feels like a nice pat on the back after a hard day of work.
The game's lovely graphics, soothing soundtrack, and laid-back style envelop you in its tranquil universe. It is one of the greatest pixel games on Steam because of the rich visuals. Luna's Fishing Gardens induces a state of near-zen-like serenity among its participants.
It begins with your character, Cassie, waking up on an island controlled by Luna, a mysterious fox spirit. Your mission is to rebuild the island. You must clean waste and debris, trade, plant, and harvest trees to introduce more creatures to the archipelago. But for the most part, you'll be capturing and gathering fish.
If you like the game Stardew Valley, you'll recognize this one. The fishing minigame is one of the most striking parallels. You direct the fish using the green bar until the meter is full. However, unlike in Stardew Valley, you may lessen the complexity of that mechanism.
These fish may be traded with Luna. As incremental games go, he will offer you leaves you can use to purchase other stuff that will help you create more cash. You may also grow trees or gardens to help you create more leaves quietly.
There's also a light quest system where you may capture specified fish to get inventory space.
You can complete the game's main narrative in 3 hours, but you may continue playing and creating. Overall, a pleasant and brief experience.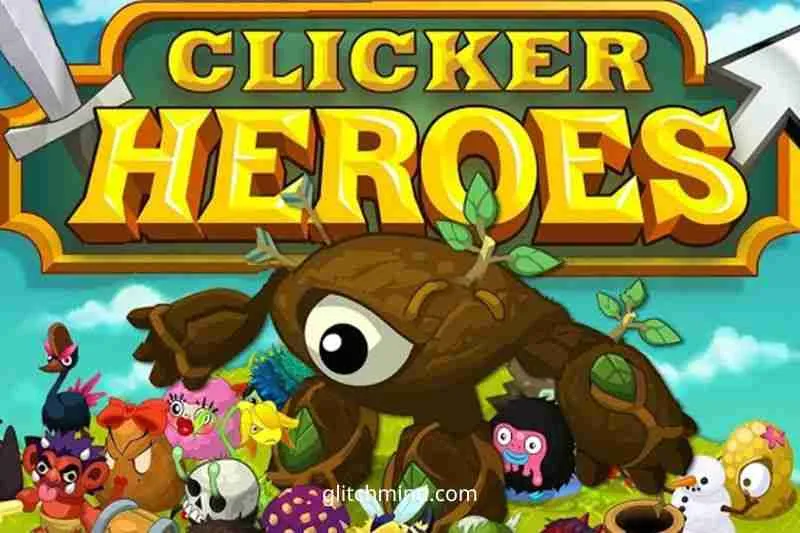 30. Clicker Heroes
Clicker Heroes begins deceptively easy but becomes more sophisticated as you devote more time to it. Don't let it deter you since it's a simple game at its heart.
You click enemies until they die, then spend the gold looted from them to increase your damage every click. You may even recruit buddies who will deal their harm to relieve the strain on your fingers.
If you continue investing in the companions, you can unlock unique skills at various threshold levels. You'll eventually be able to leave them alone, and they'll be OK without your assistance.
When you can rise and begin collecting hero souls, Clicker Heroes shines. These souls may be used to purchase ancients that provide buffs and benefits to you and your heroes. Because there are so many of them, you may tailor their impact to your preferences.
I like ancients that cater to a more passive playstyle, such as improving the damage of my buddy. You may, however, choose a more active build that raises your damage every click.
Here's a simple tip: keep an eye out for bags that appear at random on the screen. You may use these free rubies to purchase premium items from the store.
There are several idle games available online.
It's challenging to narrow down a list of the most OK browser idle games. There are earlier classics like Cookie Clicker and A Dark Room, a more severe and structured adventure. There are also many funny perspectives on business, ranging from the nihilism of Universal Paperclips to tycoon games like AdVenture Capitalist.
Whatever your preferences, there are many options and even more reasons to play these incremental games. The greatest idle browser games are entertaining and entertaining, with simple rules and enough material to keep your interest.
Read also: