The rare triple monitor stand. It's a thing of beauty. If you are looking for the best way to set up 3 monitors, look no further. We have you covered from every angle.
In this article you'll learn:
Our pick for the best triple monitor stand
How to choose a triple monitor stand
Triple monitor angle flexibility (why this is important)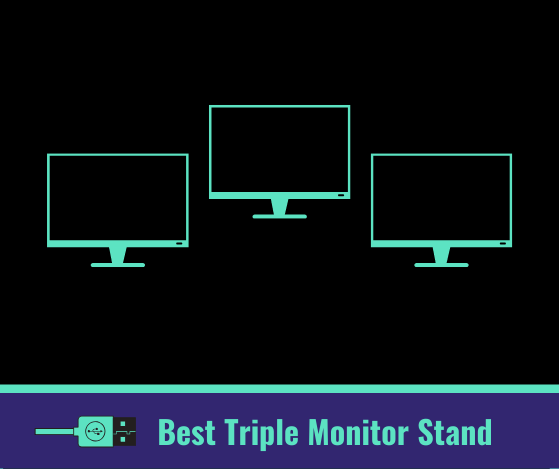 If you work behind a desk, you likely use at least two monitors.
It's possible you even use three; especially if you are in software development or financial analysis.
Proper ergonomic set up Ergonomics is critical when working behind a desk for hours on end.
A good monitor mount helps offer flexibility and customization depending to suit your viewing needs.
These monitor stands are all excellent choices.
I've tried to provide helpful detail around each product so that you can get an overview of which is best for your situation.
Best Triple Monitor Stands
I have been reading monitor arm reviews on Amazon for countless hours. Yeah….it's a bit dry, but that is my commitment to you.
Obviously I don't own all of these triple monitor stands.
If you're reading a review where the site claims to (with the exception of the wire cutter) you should question whether the author is simply trying to make a buck off of you.
But guess what? You do not have to own something to have a clear understand of its functionality and viability. That said, I make an effort to buy multiple products in all the categories that I recommend.
If I don't personally own the product, I do not publish or recommend it to you unless I have done my homework and gotten an A+.
With that out-of-the-way, let's get into the top triple monitor stand pick:
The Monoprice Triple Monitor Gas Spring Mount
Top Pick
Monoprice
Fits up to 32" (most 32" monitors supported)
Easy to raise, lift, lower
Steel and aluminum structural components
We earn a commission if you click this link and make a purchase at no additional cost to you.
09/18/2023 06:35 am GMT
This monitor mount is the winner for a variety of reasons. Not only is it sleek and stylish, but most importantly, it's sturdy.
In addition, the Monoprice monitor mount checks all the following boxes:
Smooth movement in all directions
Highly adjustable mounts allowing for effortless movement in any direction
Construction of aluminum and steel construction
VESA compatible 75 x 75 and 100 x 100 mm
Options for horizontal or portrait monitor mode
One of the most common problems I continually read about monitor arms is their inability to stay in place when mounted with a heavy monitor.
Not an issue for the Monoprice.
This heavy-duty triple monitor stand is made with counterbalanced gas-spring arms that allow the monitors to float in place. In fact, one reviewer even commented that one of their older monitors was a pound heavier than the max weight of 15.4 lbs per display, but thus far hasn't experienced an issue.
More Reasons This Monitor Mount is Awesome
Easy installation
Cable management
VESA Compatible 75 x 75 & 100 x 100
Multiple set up options with an edge clamp or grommet mount
The Bad
It is a little on the expensive side
is the most expensive on the list at around $180
The mounts are highly adjustable and allow for effortless movement in any direction. The package comes with everything you need for assembly including: Allen wrenches, wrench and desk clamp.
Monitor Sizes Supported: 13″ to most 32″
Supported monitor weight: Up to 15.4 lbs per display
Range of Motion Specs:
| | |
| --- | --- |
| Screen Rotation | -90° to +90° |
| Screen Swivel | -90° to +90 |
| Screen Tilt | -90° to +90° |
Coming In 2nd Place
The Vivo is a solid stand for under $100.
While it doesn't have all the bells and whistles of some of the other monitor mounts in this list, it's not meant to. Instead, it relies on classic simplicity and engineering.
If you are looking for a reliable option that will hold up, this is a great buy.
The Good
Excellent price
Removable 75 x 75 and 100 x 100 mm VESA compatible plates
3 year manufacturer warranty

Supports portrait and landscape monitor view
The Bad
Less viewing arrangement options
A few Amazon reviewers have reported stability issues
Monitor sizes supported: 13″ to 30″
Supported monitor weight: 22 lbs
Range of Motion Specs:
| | |
| --- | --- |
| Screen Rotation | 360° |
| Screen Swivel | -90° to +90 |
| Screen Tilt | -15° to +15° |
HumanOffice
Also Great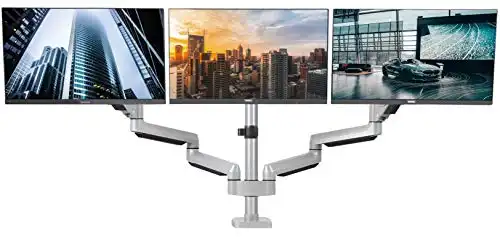 HumanOffice
Fits 17" to 27"
Lifetime Warranty
Cable Management System
We earn a commission if you click this link and make a purchase at no additional cost to you.
The HumanOffice triple monitor stand is a perfect choice for stability. It mounts securely to desks with two different mounting options (C-clamp or grommet) and fits best to 0.4″ to 3.35″ thick desks. Another plus is the max height adjustment of 17.1″ which is competitive in terms of what other monitor mounts offer.
The Good
Range of motion on all three arms
Sleek design
Lifetime warranty
Easy to assemble
The Bad
Not compatible with desks thicker than 3.35″
Quick note: if your monitors are on the heavier side of what HumanOffice's monitor stand can support, try loosening the tension. This will cut the amount of decline if your monitors are sinking a bit.
Monitor sizes supported: 17″ to 27″
Supported monitor weight: 15.4 lbs
Range of Motion Specs:
| | |
| --- | --- |
| Screen Rotation | 360° |
| Screen Swivel | -90° to +90 |
| Screen Tilt | -45° to +45° |
Huanuo
Also Great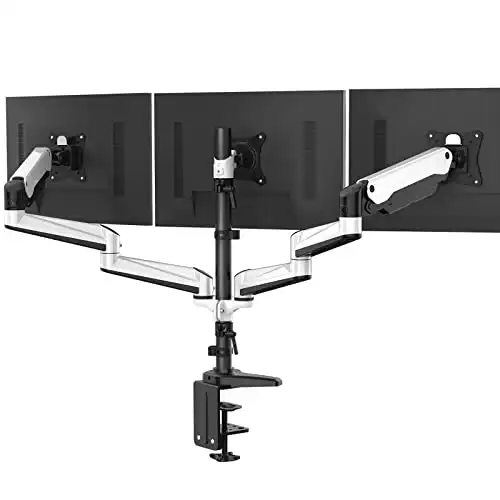 Huanuo
Supports up to 32"
2 mounting options
Allows for 360 degree rotation
We earn a commission if you click this link and make a purchase at no additional cost to you.
09/18/2023 04:45 pm GMT
The Huanuo triple monitor stand is excellent for those with wide desks. When fully extended the span of the monitor arms is about 64.2″ of 5'3″.
This makes it a great space-saver and comes with a cable-management system. From an adjustability standpoint, this monitor offers convenience with built-in holders on the cable retainers to store the Allen keys for future use. 
The Good
Can safely support three 32″ monitors
Quick and seamless assembly
Strong support for heavier monitors
The Bad
Monitor alignment can be slightly difficult
Monitors sit about 6″ out from the wall (if you're looking for a flush wall configuration, this may not be ideal for you)
Monitor sizes supported: 17″ to 32″
Supported monitor weight: 17.6 lbs
Range of Motion Specs:
| | |
| --- | --- |
| Screen Rotation | 360° |
| Screen Swivel | -90° to +90 |
| Screen Tilt | -90° to +85° |
Everything We Recommend
How To Choose A Triple Monitor Stand
There are 5 main areas you should look into when choosing a triple monitor stand:
1. VESA Compatibility
VESA stands for Video Electronics Standards Association. So what does this mean for monitor mounts, and why is it important?
In order to be VESA compatible, a monitor itself needs to have four screw holes arranged in a square. These holes can either be 75 x 75 mm apart or 100 x 100 mm apart.
Most triple monitor stands will come with arms that accommodate both sizes. Here is an example of what a mount with both 75 x 75 and 100 x 100 mm VESA compatibility looks like.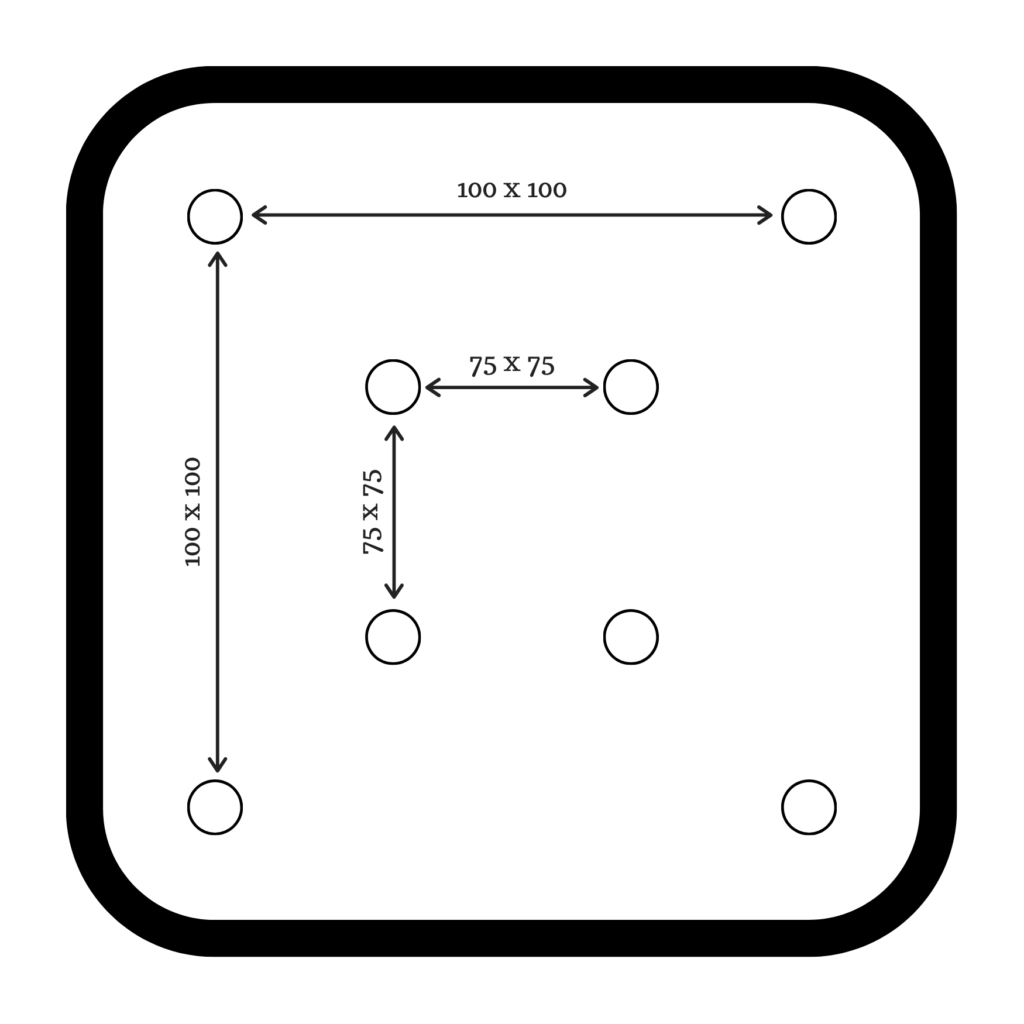 2. Monitor Size Support
If you work with 32″ or larger, this is particularly important to pay attention to. Not every monitor stand supports every monitor size. My findings are the most common supported sizes include 17″ to 27″ monitors. However, in the products reviewed above, there are multiple triple monitor stands that support up to 32″.
3. Range of Motion
A monitor mount's range of motion is a very important consideration to account for as it can directly affect workspace efficiency and comfort. If you have prefer working in portrait mode or a need to adjust monitor angles on a regular basis, a monitor stand with expansive range of motion is necessary.
4. Durability
Ensuring that you are choosing a monitor mount that is durable is critical. Imagine a scenario where you're in the middle of your work day, and out of nowhere, one of your monitor arms breaks and sends your monitor crashing down. Not cool.
It is crucial to make sure the stand you purchase is able to support the weight of your monitors. This is especially true with triple monitor stands as you have more weight being supported than the average Prior to clicking buy now it is a good idea to do a double-check of the supported weight.
5. Style
Last, but not least is style. Functionality is of course important, but having a nice looking desk set up can really elevate your mood and motivation. Sleek and appealing design is an underrated aspect of productivity. Studies have shown that a clean workspace can boost productivity. Monitor arms help free up space and reduce clutter, while also looking really cool.
I hope you enjoy this article and find it useful. Please leave a comment or contact us if you would like to get in touch.