by GlitchMind
|
Last Updated:
June 16, 2020
Thinking about buying a vertical monitor? They can be a great addition to your office or work from home desk. Whether you write code, or read lengthy articles on a regular basis, a vertical monitor will help optimize your workspace.
In this article, we will break down the following:
Our top pick
What is a vertical monitor?
Why are they used?
Best vertical monitor for coding
Most ideal for cable management
3 best budget vertical monitor options
Our Top Pick
ASUS VN279QL
The Asus VN279QL is ideal for maximizing desk space. With a slim frame and narrow stand, this monitor takes up less surface area. If you want to make your workspace more efficient, this is a good choice.
Check Price
What Is a Vertical Monitor?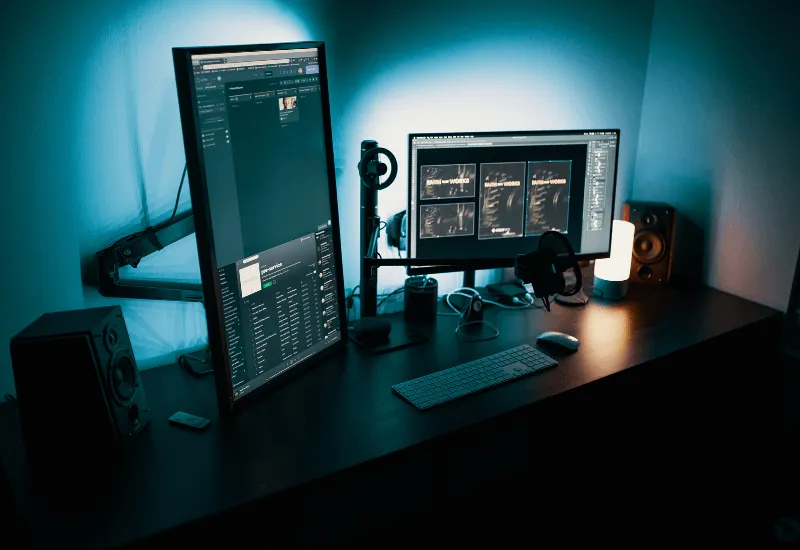 A vertical monitor also known as a portrait mode monitor is a computer screen that has the ability to display contents in a vertical format.
They are classic horizontal monitors that are rotated 90 degrees.
Why Use One?
If you are a coder, it can be a great asset to your workflow. Portrait mode monitors are popular in the programming world for the simple reason that they allow developers to see more code when working.
Another factor to consider is web sites are usually designed to be read from top to bottom, not left to right. Think about a magazine or newspaper; they are printed vertically, not horizontally. If you spend a lot of time browsing or reading online, you should consider trying out a portrait mode monitor.
Why Not To Use One?
Graphic designers or any one that spends time editing media are advised to use horizontal monitors. The landscape view is more applicable for photo and video editing. It allows the picture to be seen at wider and more full perspective.
Now that you have a better idea of why portrait monitors exist, let's take a look at some of various products on the market.
Top Pick: Asus VN279QL
Our Top Pick
ASUS VN279QL
The Asus VN279QL is ideal for maximizing desk space. With a slim frame and narrow stand, this monitor takes up less surface area. If you want to make your workspace more efficient, this is a good choice.
Check Price
Why It's Great
Picture Quality
The picture and color quality is ultra-clear and crisp thanks to the ASUS VividPixel technology. This setting enhances images to help sharpen and clear them up where needed. This is specifically noticeable for images with lower resolution where the display shows improved outlines and an enhanced level of detail.
When VividPixel is turned on, it can affect the level of text clarity. If you notice slightly inferior text quality, make sure to turn VividPixel off to enjoy razor-sharp wording.
Diving deeper on the ASUS VN279QL visuals, the full HD 1080p (1920×1080) display, 100,000,000:1 contrast ratio and 300cd/m² brightness make this monitor one of the strongest on our list from an optical standpoint. It is hard to not be wowed by the way this monitor brings images to life the way few other $200 rivals can.
Ergonomics
Ergonomically speaking, this monitor scores a 9 out of 10. The circular pedestal uses less space than a classic rectangular. In addition, the narrow bezel (surrounding area of the display screen) of 0.8cm maximizes screen visuals when tilted vertically. Couple those features with the sleek and slender frame, and this monitor succeeds in economizing crucial desk space.
Connectivity and Input
You can have your cake and eat it too with the VN279QL's MHL (Mobile High-Definition Link) technology. This enables you to plug your phone directly into the monitor to screen pair while simultaneously charging your phone. Further, the DisplayPort, HMDI and D-Sub signal inputs enable a diverse variety of multimedia streaming for work or recreation.
Overall Specs on The ASUS VN279QL
Panel Size:

Wide Screen 27.0″ (68.6cm)

Dimensions (WxHxD):

24.3in x 20.7in x 8.8in – with stand

Weight:

13.45lbs (6.1kg)

Aspect Ratio:

16:09

Native Resolution:

Full HD (1080p) 1920 x 1080

Pixel Pitch:

0.311mm x 0.311mm

Contrast Ratio:

100,000,000:1 (dynamic)

Color Support:

16.7 million colors
Viewing Angle: 178°(H) / 178°(V)

Brightness:

300 cd/m²

Refresh Rate:

60 hertz

Speakers:

2W x 2 Stereo RMS

Signal Input:

HDMI/MHL, D-Sub, DisplayPort
PC Audio Input: 3.5mm Mini-Jack
AV Audio Input: HDMI

Earphone Jack:

3.5mm Mini-Jack
The Runner Up
Coming in a very close second is the Dell P2719h. It is slightly more expensive than our top pick, yet still a fantastic choice.
The primary difference between the Dell P2719h and the Asus VN279QL (top pick) is the contrast ratio. The Dell comes in with a standard 1000:1, while the Asus boasts a dynamic 100,000,000:1.
Runner Up
Dell P2719H
Dell's P2719H is a very close runner up. Overall, a great vertical monitor with a flicker-free screen and an excellent cable management design.
Panel Size: Wide Screen 27.0″ (68.6cm)
Dimensions (WxHxD) 24.in x 15.52 x 7.28in – with stand
Weight: 9.59lbs (4.35kg)
Aspect Ratio: 16:09
Native Resolution: 1920 x 1080
Pixel Pitch: 0.311mm x 0.311mm
Contrast Ratio: 1,000:1 (typical)
Color Support: 16.7 million colors
Brightness: 300 cd/m²
Refresh Rate: 60 hertz
Best Vertical Monitor For Coding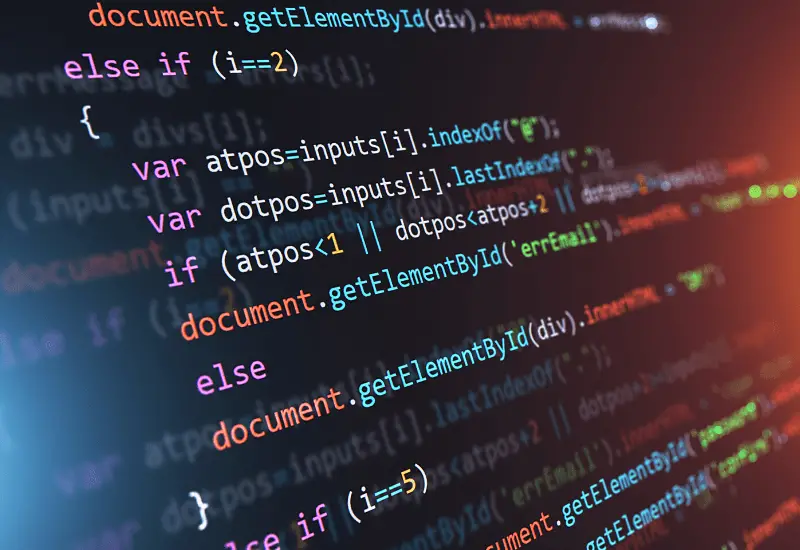 The reason vertical monitors are so popular among programmers is because of how many more lines of code they can display when in portrait mode. Depending on the size, vertical monitors can display up to 40% more code than a horizontal.
In terms of readability, lines of code usually max out at a character limit of 80 to 100. The horizontal length of a line has a direct impact on eye-movement accuracy. In general, the longer the line, the less precise your eye's accuracy will be when moving from line to line. As a consequence, extra horizontal space traditional monitors provide is not necessarily the best use of space. The shorter lines that vertical monitors create allow developers to have more precision and arguably, more productivity.
The Samsung SR650 series is our pick for the best vertical monitor for coding.
Best For Coding
Samsung SR650 Series
The Samsung SR650 features a slim bezel along with an IPS panel that extends clarity across every part of the screen. This monitor is ideal for programmers who want to maximize the amount of code they see and write.
Read Also >> Clear Vs Yellow Gaming Glasses
Best For Cable Management
Desk cable management is an increasingly popular topic. With all of the mechanisms on the modern-day desk, the number of cables can become intrusive and unappealing. The LG 27UL850 is a great choice to help alleviate this problem. It comes equipped with a cable holder that conveniently allows the cords to be fastened together at the back of the stand. The end result is easier and more streamlined additional cable management.
Best For Cable Management
LG 27UL850-W
The LG 27UL850-W is a perfect monitor to help with cable management.
Vertical Monitor Budget Options
The following 3 options are very logical if you are in the market to add a vertical monitor to your space without breaking the bank.
Bonus: 2 of these are 23″ sizes!
Best Vertical Monitor Under $100
Best Under $100
Dell E1916HV
An excellent choice if you need an inexpensive vertical monitor for your workspace.The E1916HV is Energy Star and environmentally compliant.
Top Vertical Monitor Under $150
Best Under $150
HP VH240a
The HP VH240a is a phenomenal selection. The versatility of this monitor for the price is almost unbeatable. Note that if you are using a 2016 MacBook Pro or later, you will need a USB-C adapter for HDMI connectivity.
Best Vertical Monitor Under $200
Best Under $200
HP EliteDisplay E233
HP's EliteDisplay is a great and affordable choice if you are looking to add a vertical monitor to your workspace. At under $200, the design is sleek and the set up is seamless.
Conclusion
There are many factors to consider when shopping for a vertical monitor. We hope this overview was helpful and provided enough variety in options for all interested.
TECH TIPS AND RELIABLE REVIEWS
By entering your email address you agree to receive emails from Glitchmind. We'll respect your privacy and you can unsubscribe at any time.