The best video games for kids will be those that are age-appropriate and engaging. Many factors should be considered when purchasing video games for kids, such as the content of the game, the graphics, and the price. With so many options available, it can be difficult to choose the right game for your child. However, by keeping a few things in mind, you can narrow down the choices and find the perfect game for your child
How to Buy Video Games for Kids
1. Age-Appropriate
The appropriate age of the game is one of the most important things to consider when purchasing video games for children. The Entertainment Software Rating Board (ESRB), which rates video games, gives parents and caregivers an indication of the appropriate age for use. Ratings are broken down into six main categories by the ESRB.
E: This rating is for everyone. The content is suitable for all ages. Depending on the game, there may be mild violence or language.
E 10+: This rating is for everyone 10+. Children aged 10 and above can access video games with this rating. Once again, it is possible to find fantasy, cartoons, mild language, violence or suggestive themes.
T stands for "Teen" and is generally okay for children aged 13 years or older. However, the language used is usually more robust and may contain more violence, gambling or crude humor depending on which video game it is.
M: "Mature17+" refers to those aged 17 and over. It contains content that may contain blood/gore, sexual material, strong language, and extreme violence.
A: This rating is intended for adults 18+ because the content is not appropriate for children. This rating could include gambling with real money, graphic content or prolonged moments of intense violence.
RP: RP is an acronym for "Rating Pending," which means that video games with this rating are still being assigned an ESRB rating.
2. Cost
Parents and caregivers might be surprised to learn that some of the most popular games can cost upwards of $50. However, this will depend on which system your child uses. Think about the price of the videogame your child is interested in or the type of game you think they might like.
While some games are cheaper, others require additional costs to access more features. To find out where your money (or that of your child) is going, do your research on the video game. You know exactly where your money is going.
3. Type of system
There are many video gaming systems available. You've likely heard of the PlayStation, XBOX and PC games. Video games don't work with all systems. It would help make sure the matches you are looking at are compatible.
You will typically see a description of which system the video games are compatible with. For example, XBOX has green cases; PlayStation will have a "PS4" number corresponding to the console.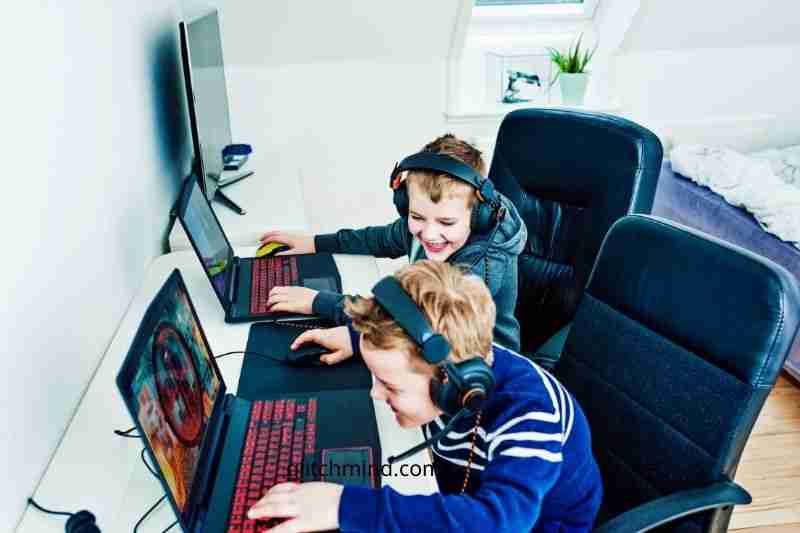 15 Best Video Games For Kids
1. Nintendo Mario Kart 8 Deluxe
We chose the Nintendo Mario Kart 8 Deluxe as our top choice because it allows everyone to enjoy this classic character and his friends. The joy of playing with your favorite Mario Kart characters will be a delight for parents, while the kids will enjoy the thrill of the game. It's great for groups, as it can support up to four people split-screen on the TV/Switch.
It's safe for children to play because it has an "E" rating. This game is a hit with Switch users, but it cannot be played on other systems.
Pros
Group fun
It is easier for children to use the beginner mode
One Switch can be used by four players
Cons
Limited system compatibility
Expensive
2. Innersloth Among Us
Among Us is a viral online game that can be played on almost any device with internet access, such as a smartphone or tablet. Each player must complete tasks to win the round. However, there is an imposter who can kill or sabotage the players.
It's a game of deduction, teamwork and betrayal. You can play with a group or generate a private code to only play with people you know. The rounds are short and you can play with strangers but there is not much interaction between players.
Pros
Play on WiFi on almost any device
Maximum 15 players
Quick game play
Cons
Interact with other players
3. EA Sports FIFA 21
This year's version of the beloved sports game will be a hit with soccer fans. The games have amazing visuals that make them look like real soccer matches. There are many options to play with other players or alone.
All soccer fans can enjoy the game on nearly all systems. The new Career Mode simulation allows you to skip whole matches and has more control over your team's players.
Pros
Amazing visuals
Multiplayer or single mode
Cons
There are very few differences between the previous versions.
Only soccer
4. Epic Games Fortnite
Fortnite is a hugely popular game that can be played online and on other common gaming platforms. Fortnite pits up 100 players against one another in single, two-person, or four-person teams to fight it out to see who survives the longest.
There is violence but it's cartoonish and not graphic. You can make in-game purchases to enhance or celebrate your game. Each battle is quite long so it can be difficult for parents to get their children out of the game during a round.
Pros
Compatible with multiple devices
Multiplayer or single
Popular merch ties
Cons
Cartoonish violence
It is possible to play a lot of games at once.
5. Ratchet & Clank Rift Apart Launch Edition
Older players will love this game, which is based on exploration and combat. The Pixar-level graphics and quick loading times, as well as the engaging gameplay, will impress them. Although there are older versions of this game available, you don't need to have played them before.
This game is more appropriate for teens as it involves shooting and has some mature storylines. Ratchet and Clank is a single-player game that is ideal for teens and tweens who enjoy the game and are mature enough to understand the story and requirements.
Pros
Amazing graphics
Storyline for mature readers
Cons
Only for Playstation 5
Single player
Shooting game
6. Nintendo Switch Pokémon Snap
This addition to the Pokemon gaming community will be a hit with younger fans. The game is single-player, and players will be accompanied by Professor Mirror, a teacher who will guide them. Players will find Pokemon in new locations, such as jungles or beaches. They are then challenged to take photos.
Only the Nintendo Switch can play this unique game. It's relaxed and fun, making it a great choice for people who are already familiar with Pokemon.
Pros
It's easy to play
Laid back game play
Cons
Single player
Only available for Switch
7. Just Dance 2021
You can move and groove to the new Just Dance version. This interactive, fun game is great for up to six people groups. You can play it with large groups by simply using your smartphone as your controller.
Six family-friendly choreographies and songs are available for families with young children. You'll be a TikTok star if you master the moves!
Pros
Six players max
Family-friendly
You can use your smartphone as a controller
Cons
The year-end version is the same
Access to additional songs requires a subscription
8. SEGA Tokyo Olympic Games 2020
The entire family celebrates the Olympics spirit. Players can choose from 18 competitive events. It is a versatile game that can be played solo, with friends, online, or with other players (or friends) from around the globe.
Although it's rated for Everyone 10+, the game doesn't have any violence or make things difficult for younger children. Families can also dress up their Olympian avatar using over 50 costumes.
Pros
Single or multi-player
18 events
Customizable avatar
Cons
Everybody 10+ rating
Some games call for two-player play.
9. Animal Crossing: New Horizons
The world has never needed a single game like it does now. Animal Crossing: New Horizons allows you to live a tranquil island life with charming animals to meet and craft your home. For children who struggle to read and pay attention, this game may be too relaxing. They will learn to distrust the stock market by learning how fluctuating turnip prices work.
Pros
Beautiful and polished graphics
Relaxing music
It's simple and easy to remember
A few new elements
There are many replay opportunities
Multiplayer options
Cons
It was a slow start
Mystery tours don't always go as planned.
Multiplayer can become boring after a while
It can be frustrating to let time slip
No emergency back-up
Local multiplayer issues
10. Crossy Road
Many mobile games promise a great time, making you pay for it with microtransactions. This is particularly harmful when it targets children. Crossy Road and its spin-off Disney Crossy Road are endless versions of Frogger. It would help if you made a chicken cross stylized roads. Crossy Road is accessible, so you won't have to pay a penny, regardless of how many times you play it.
Pros
It's easy to use without any game controllers.
You can buy game skins using coins.
There are many obstacles to overcome.
Excellent graphics and sounds
Cons
There is no multiplayer mode.
11. Cuphead
Cuphead's stunning, hand-drawn 1930s cartoon visuals instantly captivate any child who sees them. These kids will be shocked to learn how difficult this side-scroller is. Adult gamers today grew up playing difficult games but they don't look half the same as this.
Pros
The 1930s homage is completed with a catchy soundtrack
Clever boss fights will test your ability to master tight controls and demonstrate your leadership skills
Cons
Two-player co-op is not for those with a busy visual style.
There is no online functionality yet
12. Five Nights at Freddy's: Help Wanted
Famous for helping launch the careers of many shrieking YouTubers, the Five Nights at Freddy's franchise was known. You can't deny that animatronic Chuck E. Cheese animal characters were a genius idea for creating scary monsters for children. Help Wanted offers a wide range of frightening tasks that you can complete in this haunted pizza shop, including monitoring security cameras and sticking your hand into a creature's throat. Virtual reality is also available if you don't want to sleep.
Pros
Atmospheric graphics that are well-recreated
Fans get another dose of FNAF lore
Cons
It feels empty without VR
FNAF 1-4 can be found on Switch and are much cheaper
Controls are slow and inexact
Both docked as well handheld, runs poorly
13. Forza Horizon 4
Forza's mainline games are highly technical racing games that car enthusiasts love but casual drivers may find dull. Every other year, we get the Forza Horizon game. This arcade-style experience is much more friendly. These games allow you to drive on beautiful, large maps and compete in various racing events—Forza Horizon 4's beautiful English countryside changes with the seasons.
Pros
Stunning open world filled with activities
More than 450 cars are licensed
Amazing amount of detail and visual variety
Solid handling with many vehicles to unlock
Online functionality gives the illusion of a dynamic universe
Cons
Forzathon Live Events are tedious
Although it takes some time, repetition eventually makes the process easier.
14. Kingdom Hearts III
The Kingdom Hearts series can be argued to be a bit of a fraud. Square Enix fools you by placing Mickey Mouse, Donald Duck and Goofy on the cover of an anime RPG that is more absurd than any Final Fantasy. There's nothing neat or straightforward about this. A large fan base loves this bizarre combination. Kingdom Hearts III provides them with the closure they have been searching for almost 20 years. You can still play it in Disney movies, so kids should still get something.
Pros
Amazing Disney worlds
Attraction Flow summoning system
Writing earnestly in every part of the world
The New Keyblades are a great way to combat with a variety of weapons
Epic boss battles
Cons
Boring Gummiship sequences
The overall story is a mess
15. Minecraft
My experience is that Minecraft is more a game your children play and you can just sort of understand. You could do worse if your child is a Minecraft player. Let your child teach you something.
Pros
Charming is a retro, sterile aesthetic
The crafting system is rich in detail
Excellent balance between adventuring and building
This is a brilliant creative outlet for gamers of all ages
Great game soundtrack
There are near-infinite possibilities
It's extremely satisfying to be in survival mode
Gaming's best co-operative experience
Cons
No in-game tutorials
Some elements of the game feel incomplete
Randomly generated dungeons won't appeal to "uncreative types".
Half-baked experience points and an enchanting feeling
The final boss is insanely difficult
You don't have to be impatient to apply
FAQs
1. What are the signs that my child is too addicted to video games?
The AAP recommends that older children not play video games for more than 2 hours each day. Some children may find this too much. There are warning signs that your child might be playing too much.
Your child might need to break from video games if they experience sleep deprivation or attention problems. You should also be aware of a child's inability to manage time and the potential dangers that video games can cause. Your child's health will be maintained by finding a balance between video games and real life.
2. Are video games good for my child's health and well-being?
Video games are not recommended for children under eighteen, but there are many benefits to screen time. The benefits of playing video games with your child will vary depending on their type.
Depending on which one they choose, some games will help your child improve their problem-solving skills and hand-eye coordination. Virtual Reality games can be a great way to get your child moving. It's important to remember that video games shouldn't replace physical activity. Moderation is the key.
Read also: