Is ARK Cross-Platform? There are a lot of different video game consoles out there and it can be hard to keep track of which games are compatible with which system.
So, if you're wondering if the game ARK is available on multiple platforms, wonder no more! ARK is in fact available on a variety of different platforms, including PC, Xbox One, PS4, PS5, and Nintendo Switch.
A Quick Introduction to ARK Survival Evolved
ARK: Survival Evolved was released in August 2017. It is a fantastic fantasy and role-playing video game. After its successful launch, the game gained many loyal fans. The constant updates and events have made the game's popularity soar.
This is the ultimate survival game for friends to play in the open world. Your character will start with nothing more than clothes and a flashlight. Although the game's title suggests you want to survive, survival in the match will be difficult. Your survival will be complex and challenging.
Ark: Survival Evolved requires you to create firearms to defend yourself against deadly dinosaurs. This title takes players to various places, from deserts to rainforests. Spelunking can yield precious metals that can be used to create armor and weapons made from rock.
The dinosaurs are the most exciting and appealing aspect of the game. They can be used in any way the players wish. These giant dinosaurs can be ridden on, killed, tamed, or chased. To stay alive, players must have water and food. You can also eat the dead animals to satisfy your hunger. Players must quickly find better weapons and equipment to stay in the game.
The game's popularity has increased, so its creators added more servers to handle the increasing number of users. Ark crossplay? This is the reason why this question arises. Gamers often want to play with their friends on different platforms.
Is ARK Cross-Platform 2022?
This question is asked daily on the ARK official forum and in other communities. Players want to know if they can play together across multiple platforms.
Cross-platform support is essential because so many gamers have different gaming systems. It makes life much easier and more enjoyable. Crossplay support allows players to play together without thinking about their platforms and systems.
This game has an ARK cross-platform option, but it is not available to everyone. Players are subject to some limitations in the ARK Crossplay. This functionality is only available to PC, Xbox, Android and iOS gamers. You can only play with Xbox gamers if the game was purchased from the Microsoft Store.
This feature will not be available if you're on PC and purchase the game via Epic Games Store or Steam Store. This is due to the incompatibility between Xbox One and Epic platforms. PlayStation 4 and 5 users are disappointed to learn that ARK is not cross-platform supported in PS4 or PS5. This is also true for Switch Lite and Nintendo Switch consoles.
The ARK: Survival Evolved crossplay supports will give you a better understanding. Let's dive into more detail.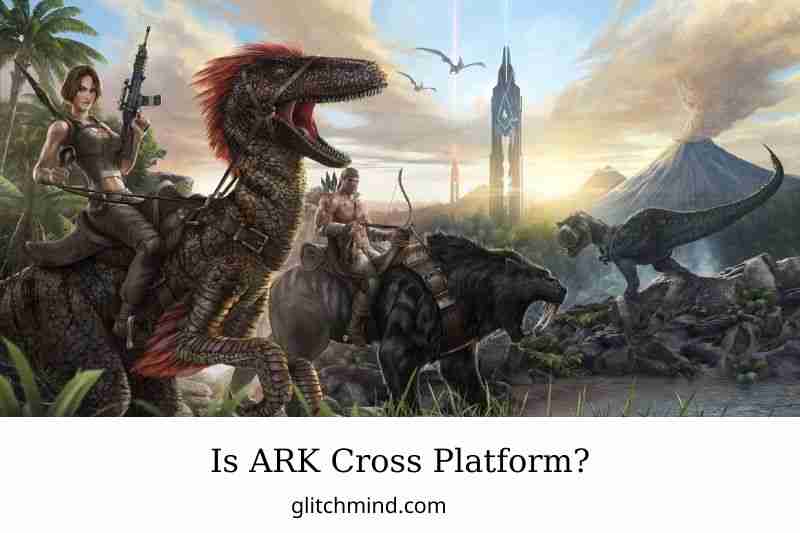 Is ARK Cross-Platform?
Ark is cross-platform. However, Ark can only be played on a limited number of platforms. This game is available for iOS, Android, and Xbox & Windows 10 users.
Cross-platform play is not possible if you own a PlayStation or Xbox One. If you want to share the best action/adventure you have with your friends, you must meet the platform requirements.
Ark cross-platform is a great game. You'll have more fun because you can play with your friends. You will fight, survive, build an Empire, and grow stronger now and again. You must collect the most resources and level up as a player.
Invite your friends to play with you. Ark cross-platform is limited in that you can only have cross-platform experience between Android/iOS or Xbox/Windows 10. If you are planning to buy a PC for gaming purposes, especially Ark Cross-platform, make sure it is Xbox/Windows 10. There are no rumors about any other platforms that can be used for cross-platform play.
FAQs
1. Are Ark Cross-Platform Android or iOS available?
Ark Survival is cross-platform. It works on both Android and iOS devices. You can play on Android, then switch to iOS. You can switch to your iOS device if your friend is currently playing on an Android device.
This is excellent news for those with Android devices who want to play with iOS friends or vice versa.
2. Ark Cross-Platform Xbox One & PC?
Ark Survival Evolved can be played on both the Xbox One and Windows 10 Computer versions of Xbox One. This means that Xbox One PC and Windows 10 PC users can play together.
3. Ark Cross-Platform Xbox One and PS4?
Ark: Survival Evolved cannot be played on multiple platforms. It is therefore not compatible with Xbox and Playstation gaming systems. Ark: Survival Evolved can only be played on the console you purchased it for.
4. Ark Cross-Platform PS4/PS5 or PC?
Ark is not a cross-platform title for PlayStation 4, PS5, and PC. If you want to play Ark on both PS4 and PC, you will need to purchase the game.
5. Ark Cross-Platform Xbox Mobile and Xbox?
Ark is not cross-platform for Xbox and Mobile. This is because Xbox runs on Windows while mobile devices run on Android.
Ark is not planned to be cross-platform on Xbox One and Mobile. This would require significant restructuring of Ark's base code.
6. Ark Cross-Platform PS5 & Mobile?
Ark is not cross-platform for PS5 and Mobile. This is because the PlayStation Network (PSN) uses a different version of PHP than Android devices.
7. Ark Cross-Platform PS4 & Nintendo Switch?
This question has a simple answer: "No." Ark is not cross-platform for Nintendo Switch and PlayStation 4. This is because Sony and Nintendo have different architectures and are rivals. Ark is not cross-platform compatible with Switch and Xbox One.
8. Are ARK Crossplay Steam or Xbox?
There are three platforms where PC gamers can purchase ARK Survival Evolved. These include Microsoft Windows Store and Steam Store.
Epic Games and Steam users cannot play with Epic Games customers who have purchased ARK from Microsoft. Unless you're a Steam user, you cannot play with Xbox or PC players who have the same game as you.
9. Is ARK Crossplay Epic?
The ARK cross-platform feature will be available if players purchase the game via Epic or Steam. Players can only play together if they all buy the game through Epic Stores or Steam.
The situation is as follows: If you purchase ARK Survival Evolved via Steam Store, your friend will buy it from Epic Games Store. Crossplay support is available for ARK. Because of the compatibility between both platforms, you can play together.
10. Are ARK Crossplay Epic and Xbox compatible?
In the Steam and Xbox One section, we have already mentioned that the Xbox console is not compatible with Epic and Steam.
Only Epic and Steam players can play together, but not with other players. Epic Games players can't play ARK together with Xbox One-using friends.
Read also: