The MSI Optix MAG271R 27″ LED FHD monitor is a great choice for gamers looking for a smooth and responsive experience. This monitor delivers a fast 1ms response time and a 144hz refresh rate, making it perfect for eSports. With its curved screen, the MAG271R provides an immersive gaming experience that is sure to please.
MSI Optix MAG271R Review
The MSI Optix MAG271R 1080p 144Hz+ VA panel gaming monitor features a flat screen.
This model may not be for everyone. However, there are cheaper alternatives.
Pros
For maximum viewing distance, super-narrow bezel
Extensive color gamut and high contrast ratio
Frameless Design
Flat-screen for eSports Experience
Anti-Flicker & Less Blue Light
Rich connectivity options and height-adjustable arm
Finishing with RGB gaming LED or MSI Gaming OSD
Cons
A little too expensive
The total input lag is 16 ms which is unacceptable in comparison to the rest of the market.
A low density of 81 pixels per inch results in poor picture quality and text quality.
Graphically demanding video games may cause frame drops outside the adaptive refresh rate of 48 Hz
Ghosting is moderate in fast-paced games, mainly in darker scenes
1. Specifications
| | |
| --- | --- |
| Panel Size | 27″ (69cm) |
| Panel Resolution | 1920 x 1080 (FHD) |
| Refresh Rate | 165Hz |
| Response time | 1ms |
| Panel Type | VA |
| Viewing Angle | 178° (H) / 178° (V) |
| Video ports | 1x DP (1.2), 2x HDMI (2.0) |
| USB ports | 2x USB 2.0, 1x USB 2.0 Type B |
| Control | Control 5-way OSD navigation joystick |
| Contrast Ratio | 3000:1 |
| | |
| --- | --- |
| Power Type | External Adaptor 12V 5A |
2. Display Design
The MSI Optix MAG271R Monitor is designed for fast-paced action. It also provides smooth visuals to enhance your gaming experience. The screen height can be adjusted to suit your viewing preferences. The monitor features a stunning 165Hz maximum refresh speed VA panel that allows smooth, fast movements. It also has a 5-way OSD navigation joystick and dark gray/matte Black finish.
The MSI Optix MAG271R is the fastest, with a 1ms response virtually eliminating blurring and ghosting. The 1920×1080 Full HD VA panel features thin bezels, a 3000 to 1 contrast ratio, 300 cd/m2 brightness rating, and support for 16.7 million colors. The back of the monitor has Mystic Light RGB lighting that can be customized to glow in different colors and patterns.
This monitor supports AMD FreeSync and is compatible with NVIDIA and AMD graphics cards. The monitor's broader gamut coverage makes it look more natural and crisp with vibrant details. The Optix MAG271R also features night vision that is easy on the eyes. The Optix MAG271R gaming screen can maintain sharp image quality even when game scenes change rapidly. Depending on your requirements, you can adjust monitor settings with the gaming OSD.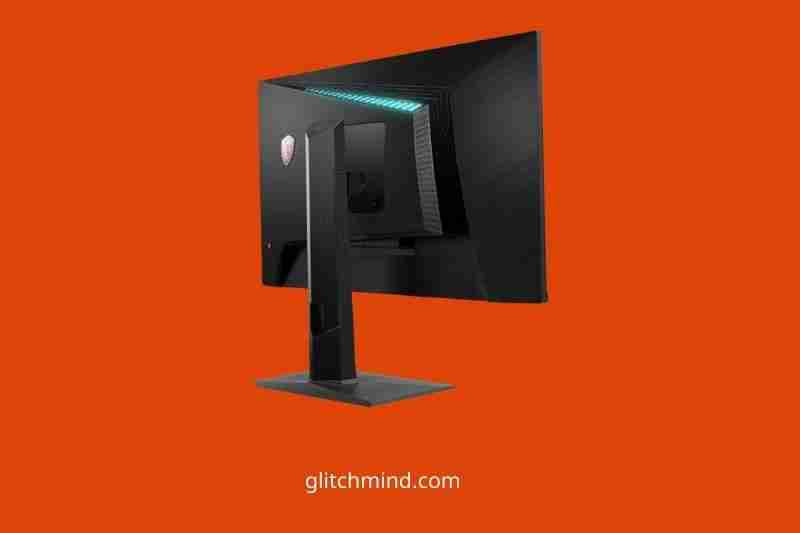 2. Image Quality
The MSI Optix MAG271R is based on a VA panel with a static ratio of 3,000 to 1, a peak luminance at 300-nits, and actual 8-bit depth with an extended gamut (118% sRGB and 92% DCI–P3). It delivers an immersive image quality that features deep blacks and vibrant colors.
It's not perfect for its 1080p resolution, given its 27″ screen size. However, it has a lower-than-average pixel density at 82 PPI, pixels per inch.
The image is pixelated but manageable. It is acceptable for entertainment purposes such as watching videos or playing video games.
The monitor's backlight uses DC (Direct Current) to adjust the brightness. This, in conjunction with the low-blue filter, ensures comfortable viewing.
The MSI MAG271R monitor has 178-degree viewing angles, meaning colors, contrast, and brightness won't change when you view it from different angles.
3. Performance
The MSI MAG271R input lag is 4ms. This is fast enough to eliminate any visible delays between your actions and the response on the screen.
MSI did not specify the standard gray-to-gray (GtG) pixel transition when it came to the speed of the response.
They instead specified the 1ms MPRT speed (Moving Picture Resolution Time), which is achieved by backlight strobing.
You can enable 1ms MPRT by going to the OSD menu (On-Screen Device) and setting the Response Time option as 'Fastest'. Or they are turning on the Anti Motion Blur function. They both do the same thing: they enable backlight flashing, reducing blurred images caused by fast-moving objects.
Screen flickering can be introduced when 1ms MPRT mode is activated. However, it is invisible to the human eye but may cause headaches for sensitive ones.
Additionally, 1ms MPRT reduces screen brightness when active and cannot be used simultaneously with FreeSync/VRR.
When the Anti Motion Blur technology is not used, the actual speed of the MSI MAG271R's response time is closer to 4ms-5ms, which is the standard for VA panels.
There is some visible trailing behind fast-moving objects in darker scenes. However, this is tolerable unless you are a severe FPS gamer.
4. Features
Full HD 1920×1080 resolution: Provide the best gaming experience with minimal strain on your graphics card.
1ms Motion Picture Reaction Time and 165Hz Rate: The combination of a 1ms MPRT and a 165Hz refresh speed creates a smooth and responsive gaming experience, especially in fast-paced genres like racing and FPS. It delivers high-speed performance and minimizes screen time and lag.
AMD Radeon FreeSync: This adaptive synchronization technology matches your monitor's framerate with the AMD graphics card to reduce screen ghosting, stuttering, and tearing.
You can view the screen from various angles, including vertical and horizontal angles at 178 degrees.
It provides a 100,000,000:1 dynamic contrast ratio (3,000%1 is typical): ensuring that the screen images are bright and clear.
DisplayPort and HDMI inputs: allow you to set up additional sources and DVD players for high-quality audio and video.
2 USB 2.0 ports: Allow you to connect devices to the screen and send the data to your computer.
Gaming OSD: With its game-like interface, the Gaming OSD lets you change your gaming settings quickly and easily. You also have access to hotkeys and custom profiles.
Gaming Mode: The monitor has several optimized viewing modes that can be used for various applications, including Racing, FPS and RPG, RTS, Designer, and Reader.
Night Vision: The Optix MAG271R Nightvision enhances dark scenes to improve visibility so that you can detect enemies.
MSI Mystic light RGB LED Lighting: The back of the monitor has a strip of RGB LED that can be customized to provide different lighting effects and colors.
5. Connectivity
DisplayPort 1.2, two HDMI 2.0 ports, and a headphones jack are some connectivity options. AMD FreeSync supports both DP and HDMI with a 60-165Hz VRR.
The Mystic Light RGB lighting is located at the back of your monitor. You can adjust it to glow in different colors or patterns.
Conclusion
The Optix MAG271R gaming monitor is a great choice. It has the exceptional image quality and immersive smooth performance. Its price of around $200-300 is high compared to other options. It is unique, however, so you may decide to buy it.
Read also: