There are a ton of great iPhone games out there. It's hard to know where to start, but Glitchmind has covered you. Here are the best iPhone games you can play right now.
From first-person shooters to puzzle games, there's something for everyone on the iPhone. And with new games always released, there's always something new to try. So if you're looking for some great games to play, look no further than this list.
Best iPhone Games
1. Alto's Odyssey
Alto's Odyssey is the sequel to Alto's Adventure, which was released in 2015. The new game builds on the series' ability to blend magnificent skiing vistas with the fluid gameplay of an endless runner. Ascend the mountain by fulfilling objectives, collecting cash, and gaining upgrades.
2. Among Us
Among Us was released in 2018 but unexpectedly became quite famous in 2020. In this cooperative, multiplayer game, you must work together to figure out who is the liar in the group while surviving in space. Because we're trapped at home right now, this is the perfect game for honing your social skills (and your paranoia high).
3. The Battle of Polytopia
You control a tribe in this real-time strategy game as you extend its territory, combat opponents, and eventually construct an empire. The Battle of Polytopia allows you to play alone, against a buddy, or online with strangers.
4. Year Walk
This iPhone app provides a genuinely eerie gaming experience. The narrative is inspired by the Swedish folktale of the Year Walk, in which players compete in a series of divinations during a trip to see into the future. There are hidden meanings and numerous endings to discover.
5. XCOM: Enemy Within
It revitalized the iconic strategy game brand and became one of the best games of 2013. XCOM: Enemy Within expands on everything excellent in Enemy Unknown by adding new side missions and enemy kinds. It's the most excellent edition of an already fantastic game, and it's well worth buying up if you're a die-hard strategy enthusiast.
6. The Witness
The Witness, like Myst, places you in a mystery setting and expects you to find out how to escape. You'll be hunting for clues and solving riddles, but make time to enjoy the environment.
7. Warbits
This game allows you to command an army and utilize turn-based tactics to destroy your opponents. Each unit in Warbits has its strengths and weaknesses, as well as different power-ups, and is inspired by the original Advance Wars strategy games. The game offers a narrative, a challenge mode, and online play, all wrapped in adorable visuals and amusing language.
8. Ultimate Rivals
Ultimate Rivals (exclusive to Apple Arcade) amps up the ridiculousness of arcade sports games by allowing you to mix and match athletes from other leagues. This is the game to watch if you want to witness LeBron James play hockey or Megan Rapinoe throws an American football.
9. Transistor
While Transistor doesn't control nearly as well on an iOS touch screen as on a console, it's still a lovely, clever, and mechanically advanced sci-fi action RPG.
10. Thumper: Pocket Edition
In this basic yet unforgettable game, you control a beetle that races down a track at high speeds. Thumper requires you to keep time with the background music while avoiding obstacles, battling adversaries, and bracing for turns. The haunting soundtrack, hypnotic images, and punishing response times create an intense gaming experience.
11. Threes!
Remember the Year 2048? The original version of the game is still worth playing. Threes! was a popular iPhone game in 2014 before being duplicated several times. Players slide numbered tiles and mix them in groups of threes.
The game continues until there are no more movements and a final score is calculated. Only the copycats incorporated the aggravating requirement to get a precise numbered tile.
12. Terraria
Terraria is similar to 2D Minecraft. It's a sandbox adventure game in which you may explore, create, construct, and battle in a randomly generated universe. You may travel across biomes and engage with different characters.
13. Spaceteam
Spaceteam, a cooperative, multiplayer video game, is unique for the iPhone. Wi-Fi connects players, so they to collaborate and prevent a spacecraft from crashing. Because of the hectic nature of the action, players often find themselves yelling directions to one another, which adds to the tension.
14. Slay the Spire
Slay the Spire's engrossing spin on collectible card game fighting makes it a roguelike worth revisiting. Even after hundreds of runs, you'll devise new methods to mix spell cards to harm the creatures. It's worth noting that this game was released by Humble Bundle, owned by PCMag's parent company, Ziff Davis.
15. Shadowmatic
Shadowmatic is a simple yet popular game in which the player turns abstract items under a spotlight until the shadow takes on a recognized form. The game has received accolades for its intricate and realistic depictions and remarkable gaming mechanics.
16. Sayonara Wild Hearts
Sayonara Wild Hearts (exclusive to Apple Arcade) is a game, although it's more of an interactive pop music CD. We don't care what you name it as long as you get your hands and ears on this psychedelic, sublime, technicolor voyage through a beautiful selection of tunes.
17. Rymdkapsel
Rymdkapsel employs a minimalist graphic style to create a one-of-a-kind iPhone gaming experience with this real-time strategy game.
Players construct a space station, manage resources, and defend against assaults while conducting critical research. There are distinct chambers on your base for specialized purposes, and the game finishes when all employees perish.
18. Rovio Classics: Angry Birds
App Store gaming is now so old that many of its most popular titles are no longer accessible for download. It's the same reason why it's so challenging to play old games on new consoles; the technology is too old.
Few mobile game brands have achieved the same level of success as Angry Birds, which has spawned spin-offs and even feature films. Rovio recreated the original Angry Birds on new devices if you want to experience the delights of throwing rotund birds at green pigs.
19. Ridiculous Fishing – A Tale of Redemption
Ridiculous Fishing requires you to capture as many fish as possible before firing them by touching the screen. Each hit yields money, which may be spent on new things and improvements.
20. Reigns
You are a Medieval II: Total War commander in Reigns.
Older gamers may recall how new and technically challenging games like Medieval II: Total War was – and how you can now play them on your iPhone or iPad. It costs a magnificent $15 to purchase, but you get a complete PC game that's been translated rather effectively.
Play as one of 17 playable factions and battle, plan, and trade your way to the top of the leaderboard. The combat system, like Rome: Total War, takes some getting used to, but once you've mastered it, it's just as simple to use as on the PC.
The game is presented like a card game, with you swiping left or right to accept or reject your advisers' suggestions. Your choices affect your status in the church, military, business, and society. If these four foundations of society are not balanced, your rule will end.
21. PUBG Mobile
PlayerUnknown's Battlegrounds has been a massive success on the home console and PC gaming markets, so it stands to reason that mobile will be the next frontier. Players may now join forces in a massive battle royale mode directly from their mobile device. PUBG has never been so simple to master.
22. Pokemon Unite
It was just a matter of time until the massively successful Pokemon property attempted to enter the massively popular MOBA genre. You and your teammates control Pokemon teams in Pokemon Unite, dunking on each other to win points. Unite features straightforward gameplay in terms of MOBAs, and the Pokemon themselves employ all the weird skills you'd expect.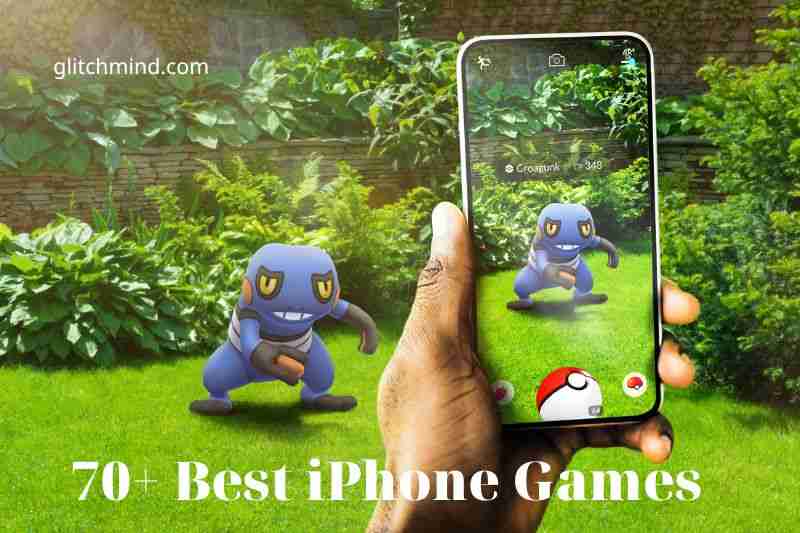 23. Pokemon Go
In 2016, Nintendo took the next step in its Pokemon series with the global release of Pokemon Go. The smartphone app used location-based and augmented reality technologies to make Pokemon capture a pleasant and physically engaging experience.
The game is still being updated, with new Pokemon, equipment, Raid Battles, and other features being added.
24. Plague Inc
In this game, the player builds and evolves a disease to spread a pandemic and wipe off the population. Plague Inc is a strategic simulation game that integrates essential elements to challenge the player in creating the ideal viral weapon. You have specific goals as you grow and modify the virus to engulf the whole Earth.
25. Pikmin Bloom
Nintendo's newest partnership with Niantic, the makers of Pokemon Go, is Pikmin Bloom. These charming plant-like animals inspire you to get out of your seat and wander about your area, which may not be as mind-blowing as the augmented-reality monster-catching phenomena.
26. Papers, Please
Papers, Please is absolutely one-of-a-kind as a paperwork simulator. You are an immigration officer in a dystopian society, where you process paperwork to decide who gets to cross the border and who doesn't.
The player is presented with an ever-expanding set of rules and regulations to verify paperwork against and is also required to make moral judgments that may contradict the accepted criteria. The game has a variety of alternative endings depending on your choices.
27. Pac-Man 256
Pac-Man 256, which takes its name from the Pac-Man Level 256 glitch, puts a fresh twist on an old classic. As in the original game, Pac-Man eats pellets and power-ups while avoiding ghosts.
This time, though, the level is infinite, and the bottom of the screen includes a bug that will swallow the player. To liven things up, the game introduces additional power-ups.
28. Oxenfree
This supernatural horror adventure follows a group of youngsters as they attempt to discover the truth about a strange island. Oxenfree is marketed as a 2.5D visual adventure with no cutscenes and conversation that occurs during gameplay.
The game is one of a kind in that there is no way to get a game over. Instead, the game's fate is determined by the player's choices, which means there are various endings to discover.
29. Out There
Out There's a resource management game with a choose-your-own-adventure feel to it. You are stranded in an uncharted section of space and must manage your spacecraft and acquire materials to live. Only through engaging with alien species can you direct your character's course, ultimately deciding the game's outcome.
30. Oddmar
In this spin on the traditional platformer genre, you guide a Viking on his journey to join the ranks of the world's best warriors in Valhalla. Will your Viking be forced to do as instructed and burn down the forest, or will he be able to show himself in another way?
31. Miracle Merchant
Miracle Merchant is a unique solitaire-style card game in which you play as an apprentice to a master alchemist. It would help if you employed decks of cards to make potions for clients, and everything is wrapped up in a colorful and appealing graphic style.
32. Minit
In 60 seconds, explore the environment around you and attempt to break a curse. Minit is a black-and-white adventure game in which you must play in segments while collecting materials and working to rescue the day.
33. Lumino City
Lumino City may include the most inventive gameplay to hit the iPhone to date. It's a point-and-click adventure successor to Lume, but the art sets it apart from other iOS games. Its images were created by hand, immersing you in a sophisticated realm of stop-motion animation previously unseen in video games.
34. Linn: Path of Orchards
Linn: Path of Orchards is an action puzzle game in which you must travel around spinning levels utilizing the character's flying and leaping skills. The beautiful color palettes of the game give it a pleasurable gaming experience.
35. Limbo
Playdead published the black-and-white puzzle platformer Limbo in 2010, in which you play a kid seeking his sister in a gloomy and dystopic environment. The game separated from the crowd because of its challenging puzzles and brutal representation of the player-end, characters which helped to raise the discussion of video games as art.
34. Lego Star Wars Castaways
Star Wars and Lego have always been a marriage made in celestial heaven. In our latest Apple Arcade game, please create your character and experience life in this brick-tastic take on the Star Wars world. Socialize with smugglers, battle adversaries, or dance if you want to.
35. Lara Croft Go
If you like the Lara Croft series, you'll enjoy what they created with this smartphone game. Lara Croft Go inspired Hitman Go and added hills to the game board. It feels like a Lara Croft game, with her climbing up mountain cliffs and navigating through chasms.
36. Inside
Inside is a puzzle-platformer developed by Playdead set in a gloomy dystopic future of government experiments and zombie-like monsters. It is a spiritual successor to Playdead's Limbo, with its monochrome, 2.5D aesthetics.
37. Hitman Go
It's never been accessible to port established gaming brands to iOS. Not every game can transition from a console with controllers and buttons to a single touch screen.
On the other hand, Hitman Go expertly captures the spirit of everyone's favorite bald assassin, Agent 47, in a more mobile-friendly version. You'll be surprised at how enjoyable this elegant series of strategic board games feel as figures travel over flat areas to achieve their objectives.
38. Hidden Folks
Hidden Folks, based on the classic Where's Waldo book series, has interactive, animated scenarios in which you must uncover hidden components. You may interact with the hand-drawn art by tapping it while you look for people, objects, and animals.
39. Her Story
This 2015 film is touted as an interactive film in which you are given fragments of police interrogation and urged to piece together the truth. Her Story is a game that employs live-action performances on a replicated desktop and has received accolades for its storyline, character acting, and gameplay.
40. Hearthstone: Heroes of Warcraft
With Hearthstone: Heroes of Warcraft, the World of Warcraft series extended into the domain of mobile gaming in 2014. Hearthstone is a free-to-play, turn-based collectible card game based on the World of Warcraft Trading Card Game. Because of its popularity, multiple expansion packs and even an esports competition have been released.
41. Grindstone
Grindstone struck out as a bright diamond at the introduction of Apple Arcade because it placed a unique take on a typical puzzle game cliche. Instead of matching gems to empty them, you match foes to bash into mush with your burly barbarian.
42. Gorogoa
Gorogoa took six years to construct, but the final result, hand-drawn by creator Jason Roberts, is a visual marvel. The game has no language, so players must solve puzzles and explore spiritual and religious concepts independently.
43. Getting Over It With Bennett Foddy
This is one of the strangest iPhone games you'll ever play. You take control of a character in Getting Over It With Bennett Foddy, who has his legs locked in a cauldron and can only move with a hammer.
You must use the hammer to climb a mountain, but there are no safe places, so you may tumble backward at any moment, destroying all of your previous work. The game also includes audio commentary from game creator Bennett Foddy, who explores philosophical subjects depending on the player's choices in-game.
44. Genshin Impact
The smash-hit action-RPG Genshin Impact straddles the boundary between the mobile game and AAA release. Using a rich and imaginative fighting system, explore the lovely (but hazardous) kingdom of Teyvat. Even if you don't spend a dollar, you may have a fantastic time with the gacha game.
45. Framed
This narrative-based puzzle game has you rearrange the panels of a noir-style comic book to guarantee the player characters escape their captors. Framed, released in 2014, received a lot of accolades for its stunning graphics, subtle storyline aspects, and fantastic soundtrack.
46. Florence
In Florence, users follow Florence Yeoh's tale via 20 chapters of interactive storytelling interspersed with minigames. The 2018 game is approximately 30 minutes long, but it has received much attention for its plot, character development, and graphic direction.
47. Fallout Shelter
Fallout Shelter puts you in command of a vault—a radiation-free settlement of survivors buried under the Earth. In reality, it's a lot like the various other mobile resource-management games out there.
However, creative and non-exploitative in-app purchase usage, paired with the distinct Fallout brand flavor, enables Fallout Shelter to appeal to casual and dedicated gamers.
48. Exit the Gungeon
Enter the Gungeon, entrusted with getting you as deep into the namesake lair of weaponry as possible. Exit the Gungeon challenges you to find a way out. You'll blast through tons of projectile peons no matter which way you travel. When opposed to using a joystick, touch controls reduce the difficulty.
49. The Escapists: Prison Escape
It would help if you discovered a means to get out of jail in The Escapists. You may explore the jail, gather or make stuff, accept missions from other convicts, and level up your character. When you escape, you are sent to the next jail. Don't be caught, or all your hard work will be undone.
50. Downwell
Downwell is a game that properly uses your phone's vertical screen. Plunge through randomized, monochromatic dungeons in style by jumping on foes and firing them with your gun boots for as long as possible.
51. Device 6
Device 6, a text-based adventure game, guides players through interactive puzzles and narrative elements to assist the main character in escaping an island. The game has been recognized for its distinct narrative style, powerful language, and sound effects.
52. Desert Golfing
If the concept of golfing in the desert appeals to you, you'll like the 2014 arthouse game Desert Golfing. Because everything takes place on the sand, the courses are randomized, and the ball's movement is uncertain. The game has received accolades for its simplicity, beautiful graphics, and challenging levels.
53. Death Road to Canada
Death Road to Canada is a randomly generated role-playing game in which you must survive a zombie apocalypse. On your pixelated journey, explore places, recruit individuals, make choices, and attempt to remain alive.
54. Dead Cells
After a successful debut on home consoles and PC, this violent roguelike game finds its way to iOS. It puts you in command of a little monster capable of controlling corpses.
You aim to escape jail by obtaining power-ups and defeating foes in randomized stages. When you die, it is permanent, but you may utilize the experience to better prepare for the next run.
55. Crypt of the Necrodancer
This dungeon-crawling roguelike game incorporates beat-matching to provide a fascinating, but punishing, playing experience. You can only move or attack by matching the pace of the music, earning multipliers for successful matches. The aim is to not only complete each level but also to get better equipment and become more successful in each subsequent level.
56. Crossy Road
We will never cease praising Crossy Road like a chicken crossing the street. Its addicting arcade action and endearing voxel visual style make it a must-have smartphone game.
57. Crashlands
Crashlands was released in 2016 as an adventure-crafting RPG adventure with a bizarre premise. You are stranded on an uncivilized planet and must battle creatures, mine resources, and complete tasks to survive. You have no reason to quit playing since the game is cross-platform.
58. Clash Royale
It is a unique game experience that blends collectible cards, tower defense, and online multiplayer. Clash Royale has been nominated for several accolades since its global debut in 2016, and it is currently a popular international sport.
59. Call of Duty: Mobile
The AAA polish of the Call of Duty brand stands up well in this mobile adaptation. Activision's well-known first-person shooter is now available for free on the go. The battle royale mode was also included.
60. Brawlhalla
Brawlhalla is the next best thing to Super Smash Bros if you don't have a Nintendo system. This free-to-play fighter pits little colorful characters equipped with bizarre weaponry against one other in epic battles to knock each other off the field.
61. Blek
Blek is a puzzle game that has received praise for its fundamental gameplay and minimalist visual style. To accomplish each level, you must create patterns using touch-screen motions. It was released in 2013 and was a simple and popular addition to the iPhone's game library.
63. Zombie Gunship Survival
Beyond a Steel Sky (exclusive to Apple Arcade) is Revolution Software's long-awaited sequel to the 1994 adventure game Beneath a Steel Sky. This cyberpunk title pays homage to the source material while acknowledging how the point-and-click genre has evolved over the last quarter-century.
64. Sim Companies
Surviving the zombie apocalypse is a genre we've seen before, but we doubt you've ever seen it from the gunner's seat of an AC-130 gunship. Zombie Gunship Survival is the ultimate remedy if you're tired of patiently building up your resources and striking zombies with sticks.
Instead, get into your gunship and bomb them all to kingdom come. Construct an airfield to protect against zombie assaults and personally command your soldiers in tactical operations against the undead.
Some reviewers criticize the microtransactions, while others say it's a relatively light touch compared to other games. It's worth the download if you're looking for something fresh.
64. Sim Corporations
Do you believe you could operate a successful company if given the opportunity? Try it out in Sim Companies. Specialize your firm in various ways, and put your capitalist abilities to the test as you compete to become the top dog.
Your success will be determined by your ability to monitor the virtual economy and identify patterns you can capitalize on. The game is free to play. However, there are microtransactions.
65. Infinite Flight Simulator
One of PC gaming's best traditions is the modest flight simulator, and it's now available on your iOS (or iPadOS) smartphone. There's almost too much to do here to mention, and you'll receive pretty much everything you'd expect from a flight simulator.
It's a little intimidating at first, but flying an aircraft isn't simple, and neither does Infinite Flight Simulator. You can also fly in multiplayer or as a flight controller, but you'll need to spend $10 monthly for a Pro membership. Still, flying a little aircraft is cheap and teaches you all you need to know about whether this is your thing or not.
66. Diablo Immortal
The game famously announced with the phrase "do you guys not have phones?" has finally arrived, and despite the backlash, it's rather excellent. Diablo Immortal arrives, and if you like the Diablo games or anything comparable, you'll adore it.
The idea here is that this isn't some cheap smartphone copy — this is a full-fledged Diablo game, which makes a big difference. Okay, it's loaded with microtransactions, but if you want to try the game everyone's raving about, you'll have to hold your nose.
67. Barbarian Merge
Born into a world where angels and devils fight for eternity, the titular barbarian must explore the Sanctuary to prevent the demons from returning to the mortal realm.
In some aspects, Barbarian Merge is a rather conventional RPG, but it adds a fascinating twist to the genre regarding inventory management.
Instead of discarding ancient swords, axes, and helmets, you combine numerous copies to create more powerful ones. It's a delightful take on a loot-based game that eliminates what may be tedious labor. After all, what makes loot management better than loot that turns into better loot?
68. Square Valley
Square Valley places you in the role of the Spirit of Valley, whose mission is to take a square of land and make it hospitable for new residents.
You'll need to build dwellings for them, farm animals, rivers for water, and trees for wood. The issue is that each section of land can only accept a limited number of tiles, so you'll need to balance what you put where. It's a fascinating idea that should keep puzzle fans entertained for hours.
69. Medieval II: Total War
Older gamers may recall how new and technically challenging games like Medieval II: Total War was – and how you can now play them on your iPhone or iPad. It costs a magnificent $15 to purchase, but you get a complete PC game that's been translated rather effectively.
Play as one of 17 playable factions and battle, plan, and trade your way to the top of the leaderboard. The combat system, like Rome: Total War, takes some getting used to, but once you've mastered it, it's just as simple to use as on the PC.
70. GT Manager
Racing games are fun, but have you ever wished you could manage your race team? Thanks to GT Manager, you no longer have to wonder.
Manage every aspect of your racing team, including establishing a headquarters, hiring drivers, and overseeing everything on race day. Unlock and collect official racing cars from Porsche, McLaren, Audi, and other manufacturers, and compete against other players in online multiplayer.
Read also: